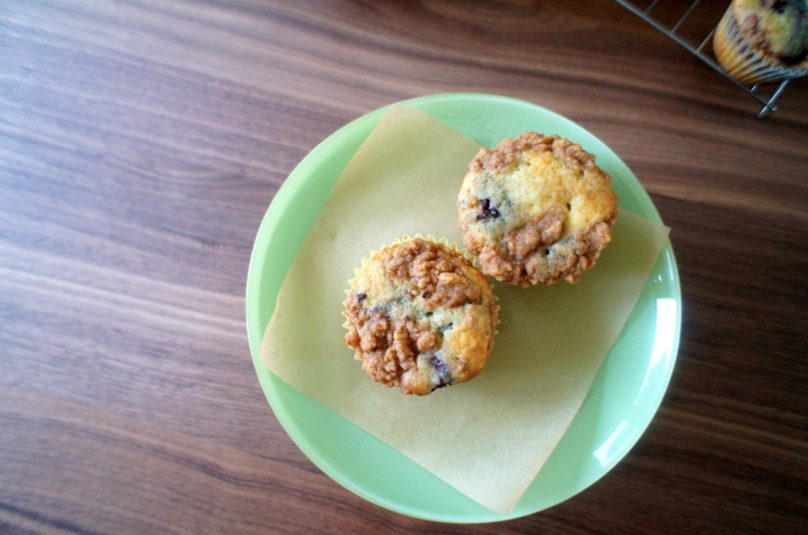 Ahhh…well into the dog days of summer and while I dread the back to school orchestrations and everything that follows it this fall I am starting to feel like I miss NYC. Â This year we have been ensconced in a house for the past month in South Jersey that my husband saw and just knew belonged to him somehow – sort of like me and those motorcycle boots I saw in Paris. Â So here we are. Â And although he had visions of tree houses and unsupervised bike rides and lazy summer days spent on the tire swing – HE is in NYC most of the week.
Well, someone's got to work.
Me and the three kids have been livin' the country life which in addition to the activities mentioned above also include – hauling garbage to the curb every thursday and recycling every wednesday, Â cleaning out the 1000 leaves that fall into the pool daily, Â swatting 32 flies a day, painting over the seemingly endless rooms that have elaborate 80's sponge painting designs, being stung by HUGE black hornets, Â driving 20 minutes to get ANYWHERE and setting a house alarm every night so the house feels less Blair Witch and more Little House. Â I know, I know – these are first world problems. Â They are also missing NYC problems. Â I don't drive – I walk. Â I don't need to travel more than 10 blocks to get anything. Â I don't have to haul my garbage further than the elevator door. Â I don't lock my door at night – I have Dexter downstairs. Â I don't believe NYC has a population of black hornets. Â Out here everything is Bizarro! Â That's ok. Â I'm adaptable. Â I'm flexible. Â I'm ohming…
I have found yoga here. Â And the supermarket is the size of 4 city blocks! Â And my parents are 15 minutes away. Â And no one cooks better than my Mom. Â All good things. Â When I am away from NY for a while one of the things I miss most is opening my front door and seeing the NY Times laying on my doormat every morning. Â I know – you can get it online! Â Not the same folks. Â If you love the NYTimes you need to feel it in your hands. Â And then have to wash those hands after reading it. Â My Dad very sweetly brings me his copy – usually a day late and sometimes just crumpled up and laying on my front door step if he finds me not home. Â I love it all the same. Â I'm not sure when but recently there was a recipe for Blackberry Crumb Muffins. Â They seemed so healthy and not-healthy all at the same time that I had to make them. Â I also have a revolving door of guests and if I can leave these out for breakfast next to the Keurig I can catch a few more zzz's. Â The New York Times never disappoints.
This country living is exhausting! Â NYC here I come!
The ingredients for the buttery (oh yes!) crumb topping
mix all the dry ingredients together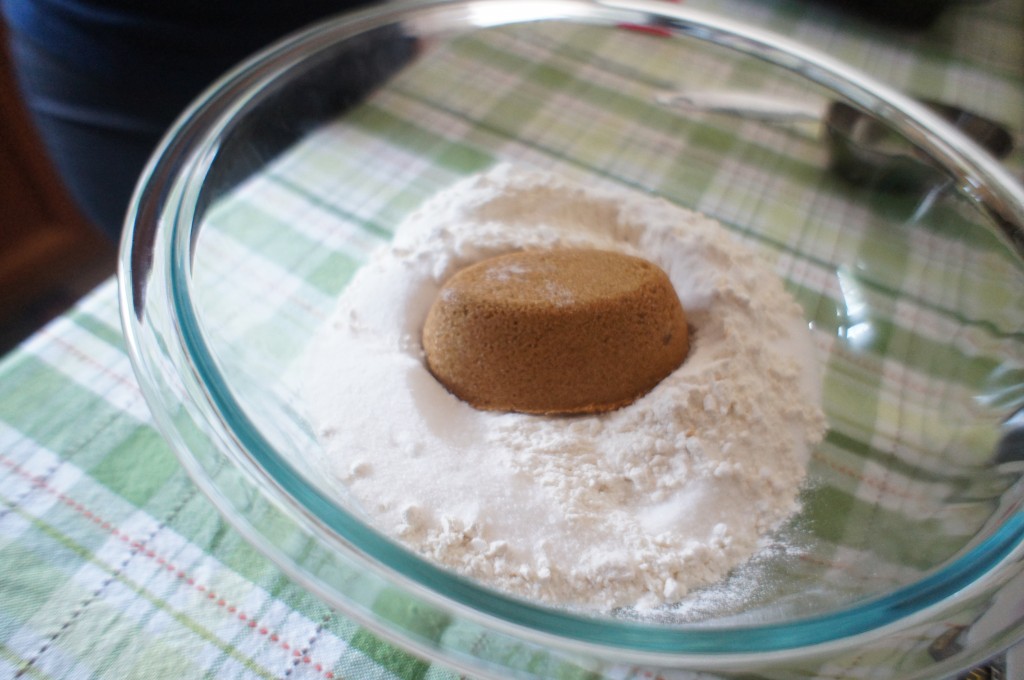 use your hands if you are not in your home and do not have the right tools!
add the melted butter
hands again!
voila! Â crumb topping! Â now this may look a little different than crumb topping you may have made before with cold butter worked into the dry ingredients but I ASSURE you that this will taste just as yummy. Â Set aside and try not to snack on while you make the cakey muffin part..
These are the ingredients for the muffin part –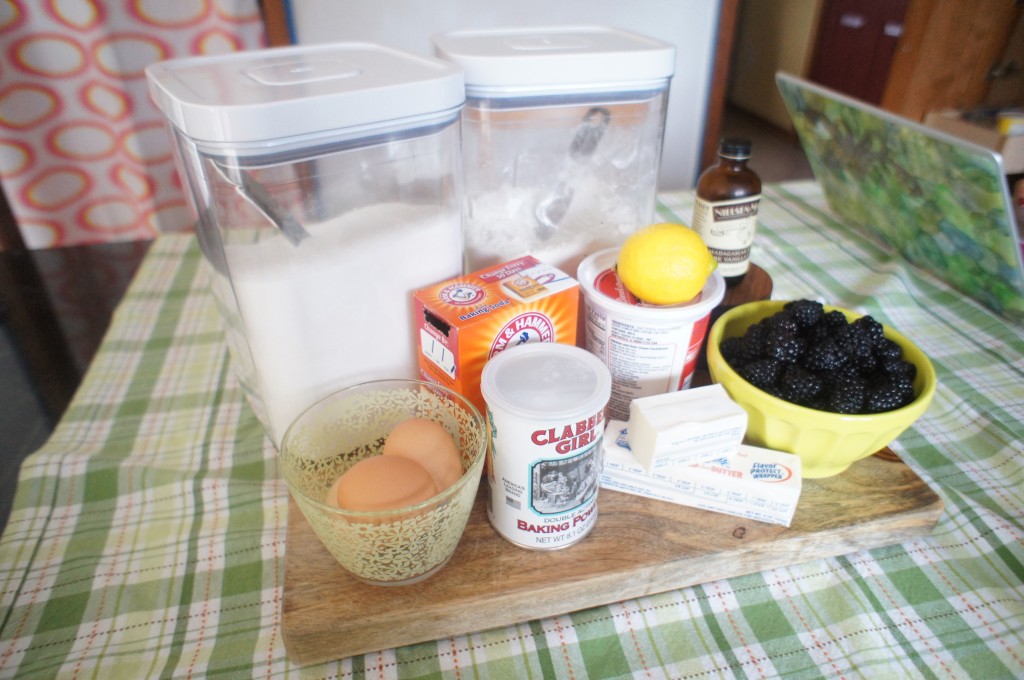 Wash the blackberries and let them dry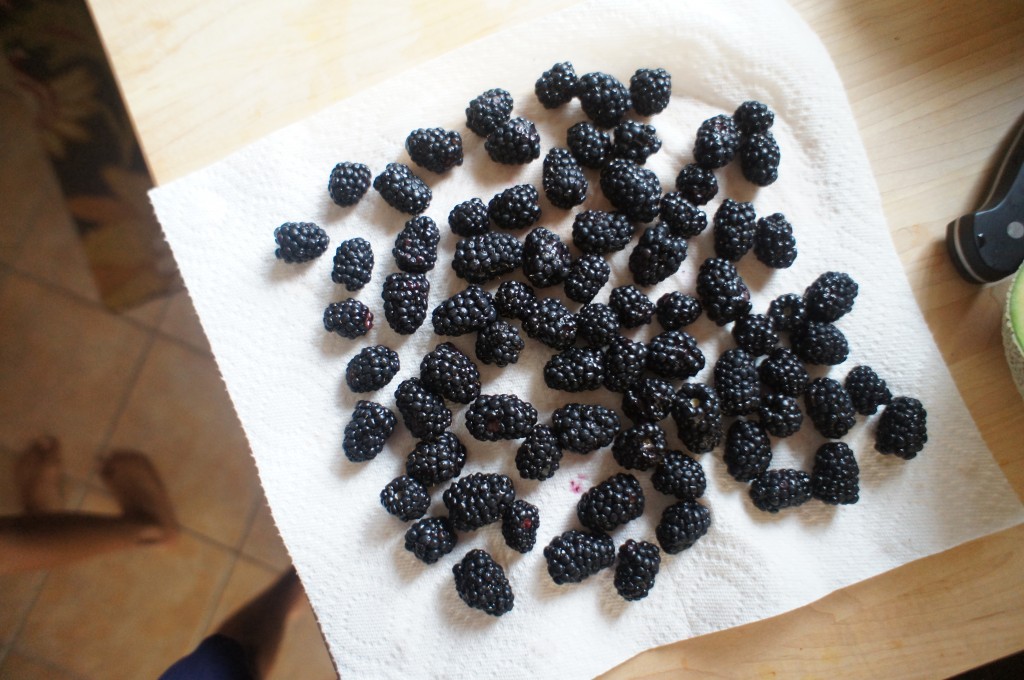 cream the butter and sugar (missing my NYC KitchenAid!)
add the room temp eggs one at a time
mix…
zest of one lemon and vanilla
yummm! Â sour cream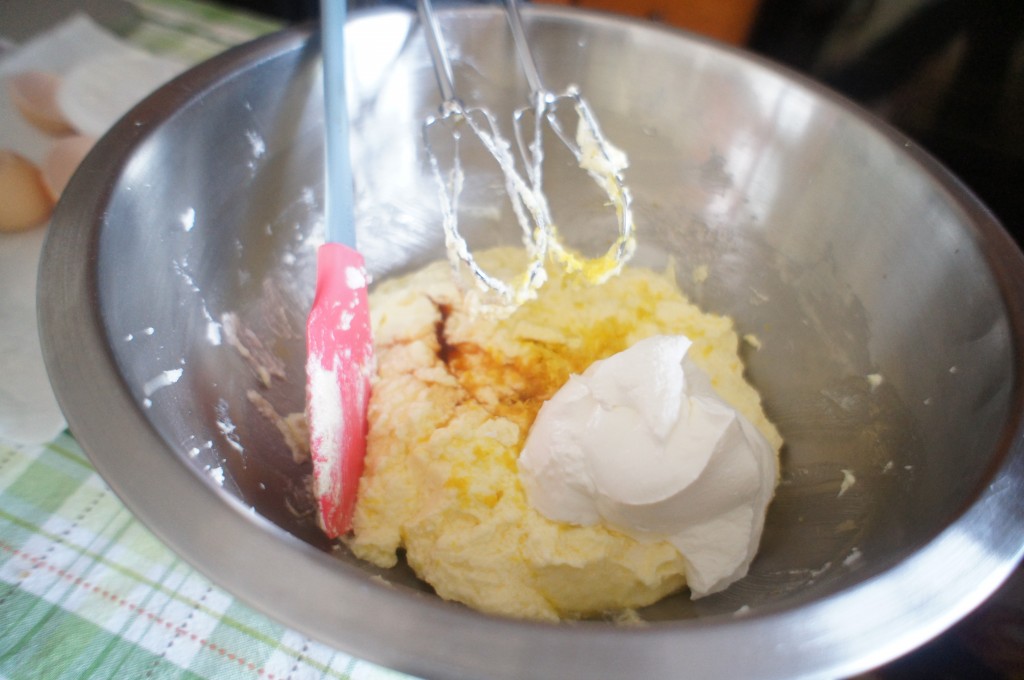 mix all that delicousness together and dump in flour, baking soda, baking powder and salt
Done with the beaters!  Make sure you get all the lemon zest off of them  – they seem to like to stick to the beaters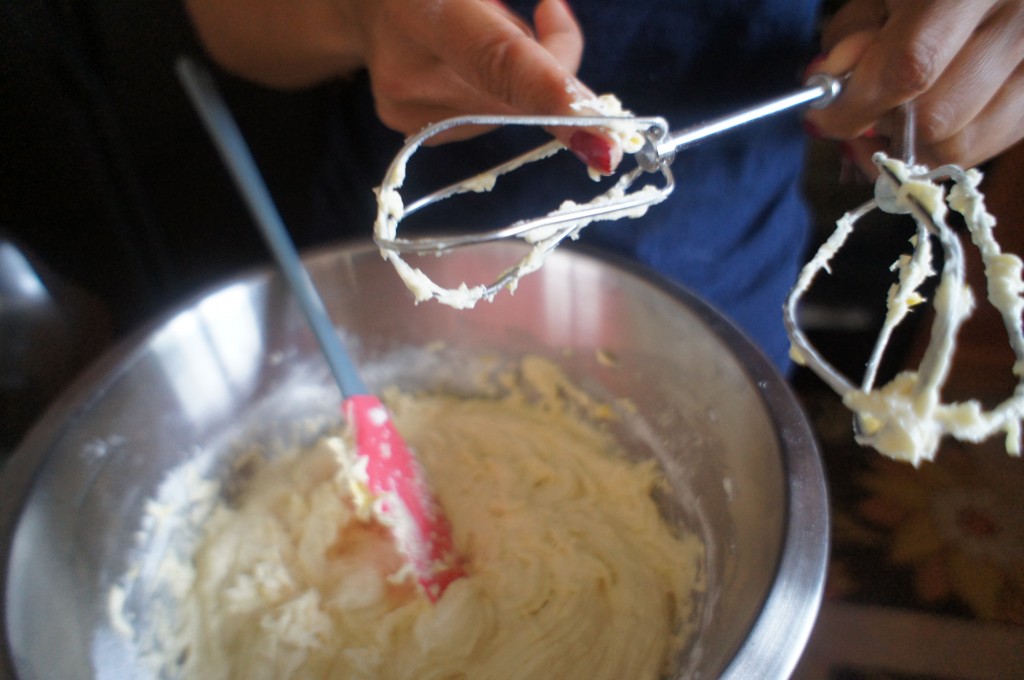 finally add the star of the party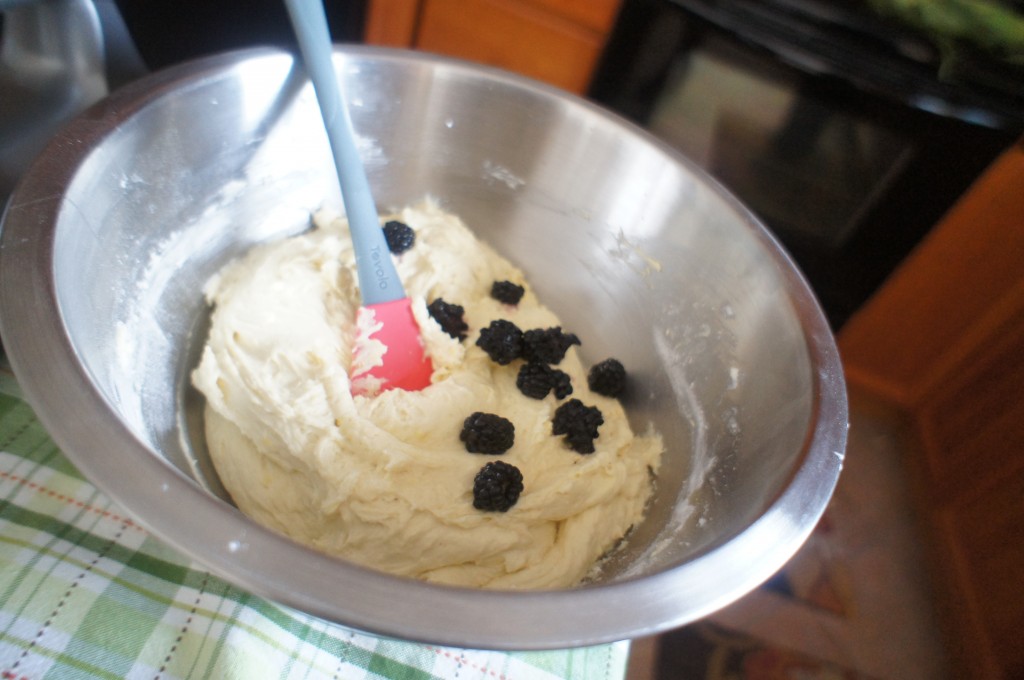 if you have large black berries maybe break them up
if you did that right your fingertips should be nice and pink!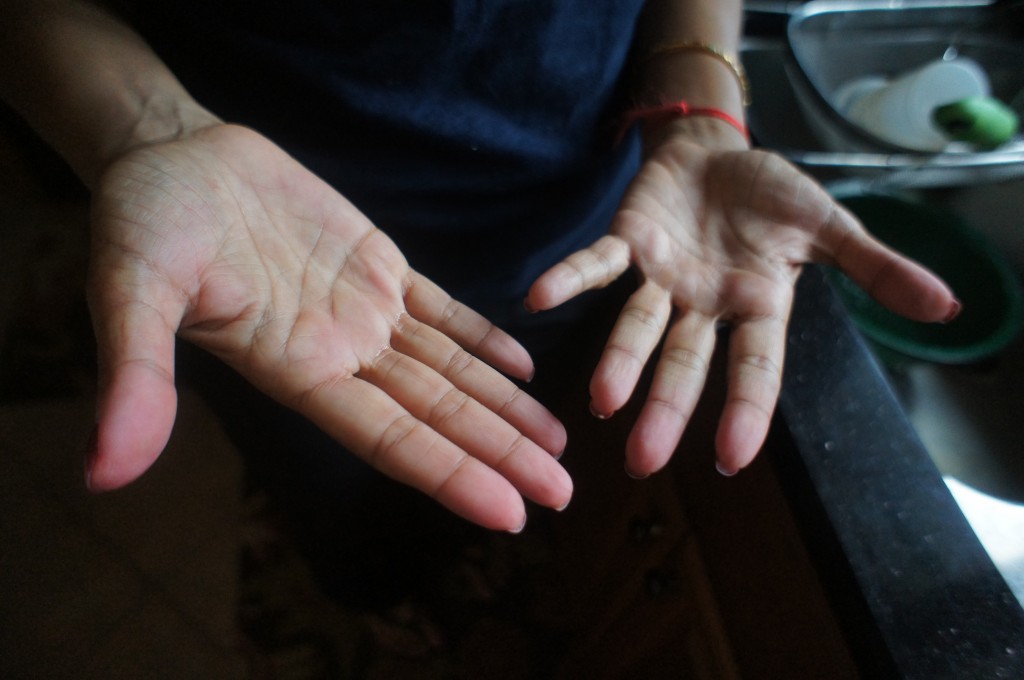 give them a gentle stir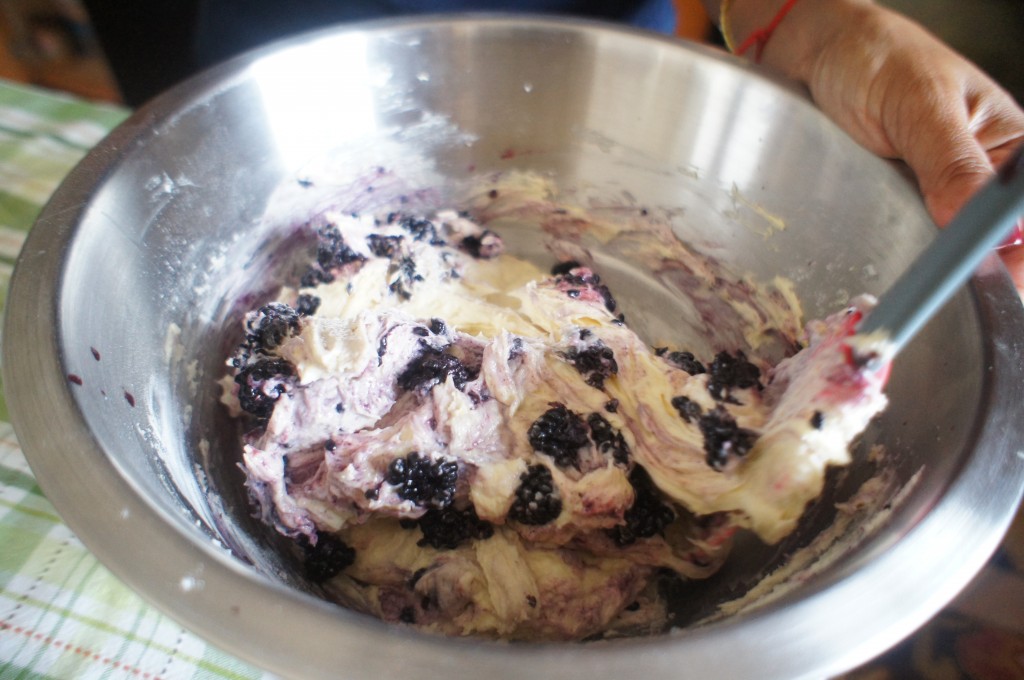 and you are ready to go!
bake for about 25 minutes at 350°
If you can stand it let them cool a bit before you scarf them down. Â OMG.
Adapted from the New York Times
**nycmom comments
photo creds to nyckid
Muffins with Blackberries and a Buttery Crumb Topping
FOR THE CRUMB TOPPING
255 grams all-purpose flour (about 1 1/2 cups)
75 grams granulated sugar (about 1/3 cup)
105 grams dark brown sugar, lightly packed (about 1/2 cup)
6 grams ground cinnamon (about 1 1/2 teaspoons) **next time would use more – couldn't really taste
1 gram ground allspice (about 1/4 teaspoon) Â ** didn't have, didn't use, didn't miss
1 gram fine sea salt (about 1/4 teaspoon)
170 grams unsalted butter, melted (12 tablespoons; 1 1/2 sticks)
FOR THE CAKE
170 grams unsalted butter, at room temperature (12 tablespoons; 1 1/2 sticks)
200 grams granulated sugar (about 1 cup)
3 large eggs, at room temperature
1 cup sour cream
1 1/2 teaspoons vanilla extract
Finely grated zest of 1 lemon
325 grams all-purpose flour (about 2 1/2 cups)
10 grams baking powder (about 2 teaspoons)
3 grams baking soda (about 1/2 teaspoon)
3 grams fine sea salt (about 1/2 teaspoon)
1/2 pint fresh blackberries (or use raspberries, blueberries or diced strawberries)
PREPARATION
1. Â Â Heat oven to 350. Grease or line 24 muffin cups.

2. Â Make the crumb topping: whisk together flour, sugars, spices and salt in a medium-sized bowl. Pour in melted butter and stir until crumbs form.

3. Â Prepare the cake: using an electric mixer fitted with the paddle, cream butter and sugar until light and fluffy, about 5 minutes. Add eggs 1 at a time, then scrape down sides of mixer. Mix in sour cream, vanilla and zest.

4. Â In a separate bowl, mix together flour, baking powder, baking soda and salt. With mixer on low speed, add flour mixture to batter and beat until just mixed. Fold in berries with a spatula and make sure batter is completely mixed.

5. Â Spoon batter into prepared muffin pans, filling each cup only halfway. Pinch large crumbs from topping mixture and scatter evenly on top of the batter.

6.  Bake for 25 to 30 minutes, until muffins are golden and their centers spring back when very gently pressed with a finger. (A cake tester will come out with crumbs attached, but it shouldn't be wet.) Transfer muffins to a wire rack. Serve warm or let cool completely and freeze.