Shanghai in the summer is hot.  Like really hot.  Like you step outside at 9am and walk a few blocks and your shirt is wet because it's already 100°.  It's so hot that you wish you had one of those frilly lacey umbrellas that all the cute little old asian ladies use when it's not even raining.  The ones that you used to laugh at before.  Maybe those cute old ladies are on to something….
This past summer on a very sultry sweaty day in Shanghai we all came back to our hotel from an afternoon of sight seeing looking for a respite from the heat. Â Some of us were irritable and grumpy from the heat so we went to the pool. Some of us just needed dessert. Â Nyckid and I went to have afternoon tea. Â Imagine my surprise when I was served a cute little furry square of a dessert with my afternoon tea. Â "What is this?!" I squealed in delight. Â "It's a Lamington Mommy. Â An Australian specialty."
Wha??
Now, isn't it nice to have such a precocious kid?
I had never heard of a Lamington before. Â Nor had I even seen one. Â Nyckid apparently frequents Australian baking blogs in her spare time. Â I was, of course, immediately fascinated and plunged right in to learn that underneath all that choco-coconutty goodness was a light spongey cake with a slight cream filling.
OH MY.
I have to say that as taken as I was with my first Lamington I somehow forgot all about it. Â The heat, the 40 hour journey back to the US, the last month of summer. Â Somehow the Lamington got swallowed up and forgot in the heat of the summer.
Until last week.
Last week I was in Chelsea Market downtown searching for a lunch place with my besties from out of town – lest you think I troll Chelsea Market daily for my own lunches! Â I wish! – when we came upon the The Tuck Shop ( for all things Aussie). Â I was standing in line for a kale salad to go with my Num Pang sandwich when the menu board started screaming to me:
HELLO?!? Â OVER HERE! Â LAMINGTON!! Â LAMINGTON!! Â REMEMBER ME??? Â AND THE WAY I SEDUCED YOU IN SHANGHAI? Â HAVE YOU FORSAKEN ME??!!
Clearly the board was speaking to me because no one else seemed to notice.
I had quite forgotten! Â But it all came rushing back to me and I decided I had to make my own Lamington's that very week. Â So I did.
Now you may be wondering – as I was – how these cute furry creatures got the unusual name of Lamington? Â No, it is not because they resemble succulent morsels of cubed seared lamb as my brother-in-law thought. Â (He's gluten free – what does he know?) Â Apparently (according to Wiki) they were named after Lord Lamington who was Governor of Queensland from 1896-1901. Â Or maybe for his wife Lady Lamington. Â Funny enough Lord Lamigton despised the dessert and referred to it as "those bloody poofy woolley biscuits."
Hmmm. Â Somebody needs a xanax…
There are many versions of Lamingtons – some have cream/chocolate/fruit filling in the middle, some have nothing, some are two biscuits surrounding a filling. Â But basically it is sponge cake with a filling dipped in chocolate and then lolled around in coconut. Â Not difficult. Â But this is a case where, as Aristotle said, "the whole is greater than the sum of it's parts." Â Give it a go!
Here's the how:
Basically  a sponge cake has lots of eggs and sugar but not a lot of flour which is what makes it so light and fluffy.  This one starts with 6 eggs….
add the sugar and turn your mixer to the highest it will go and watch…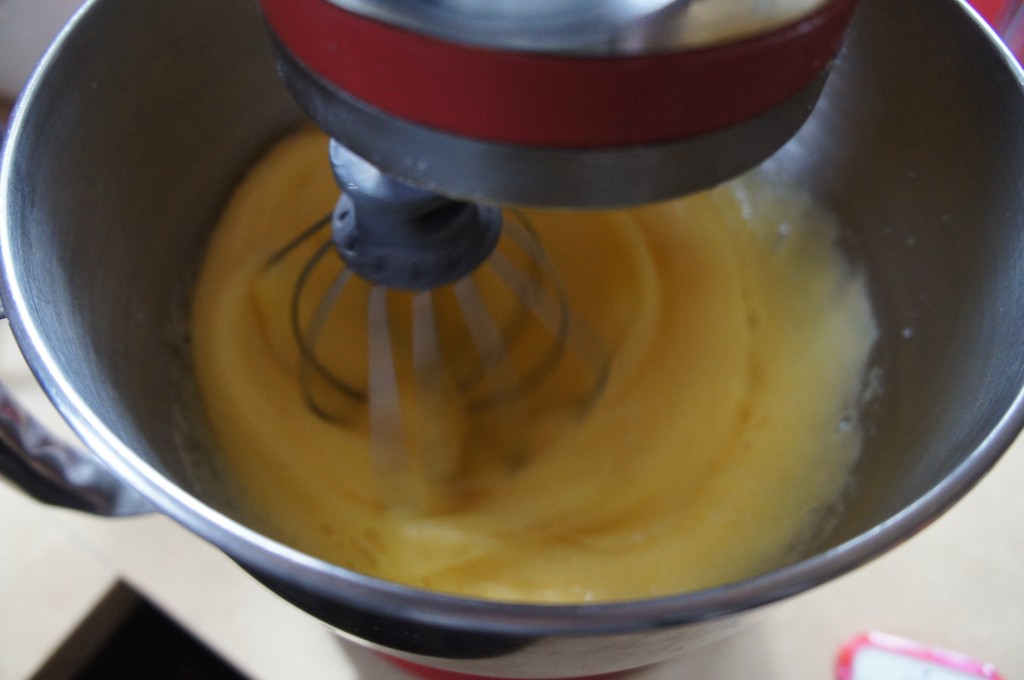 it will start to thicken and rise…
and change color to a beautiful pale yellow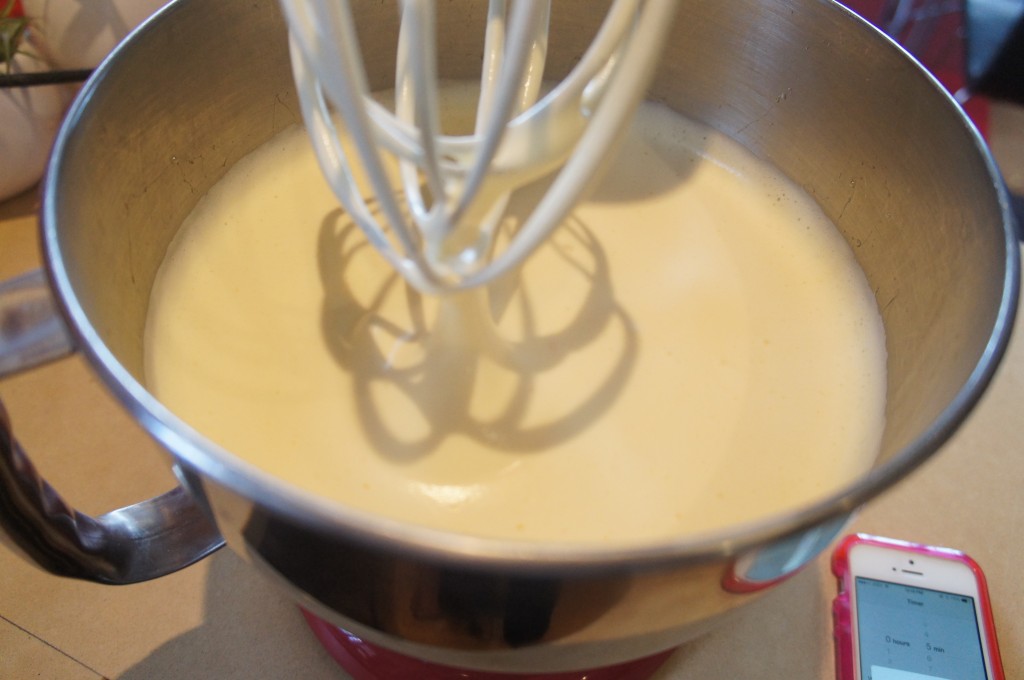 when it's done a ribbon from the beater should rest on the dough and not disappear right away (mine took about 12 minutes)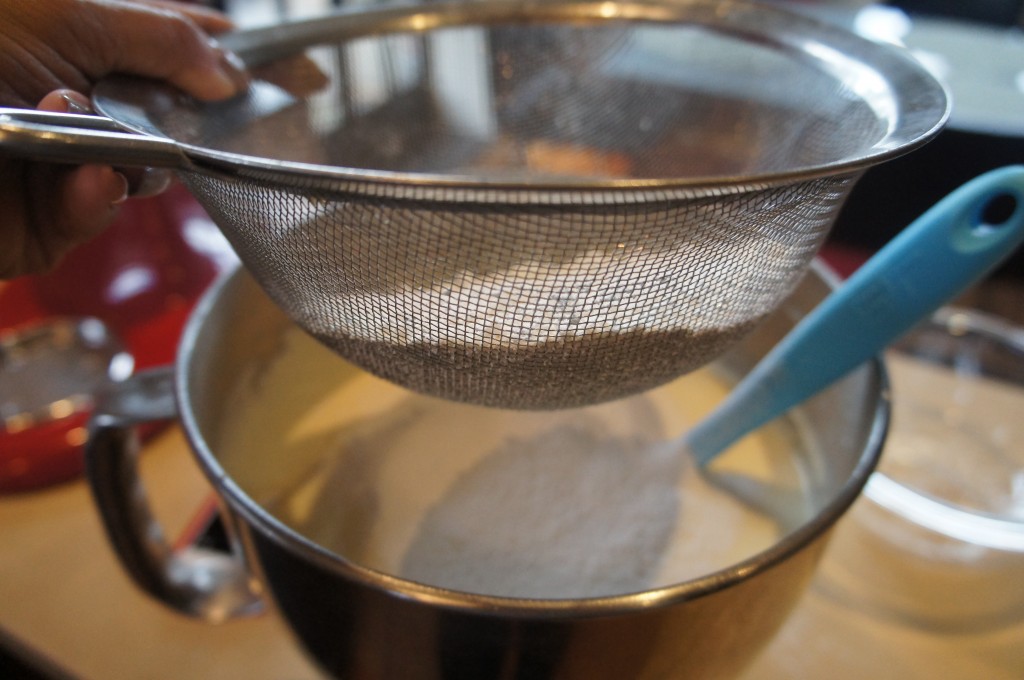 sift in the flour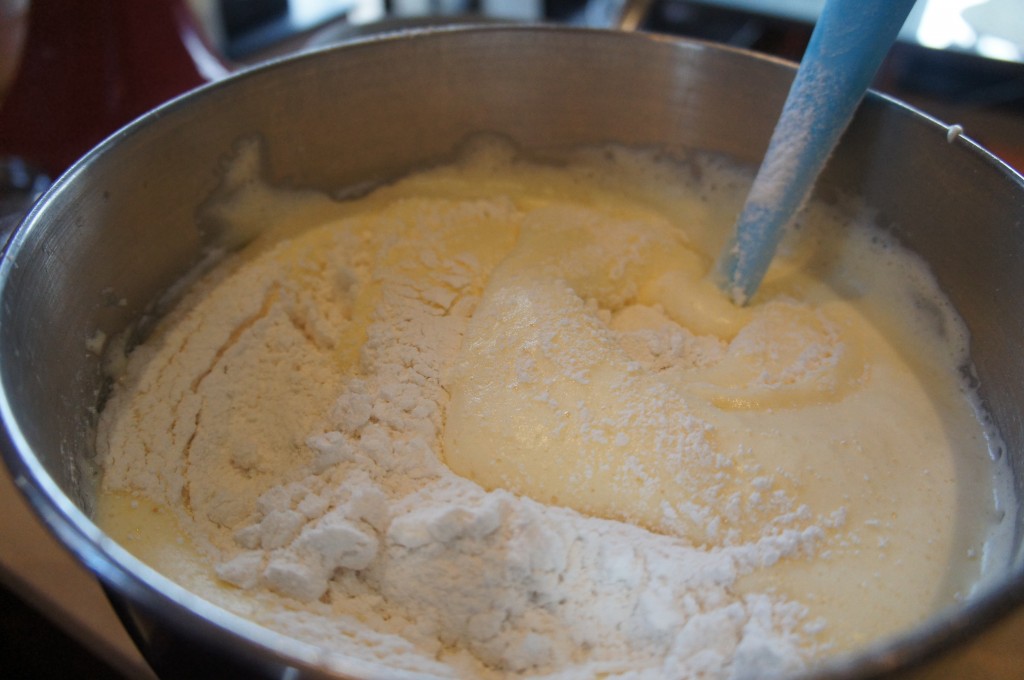 and fold in gently ( I did not use a whisk like David said since I couldn't find one big enough – spatula works just fine)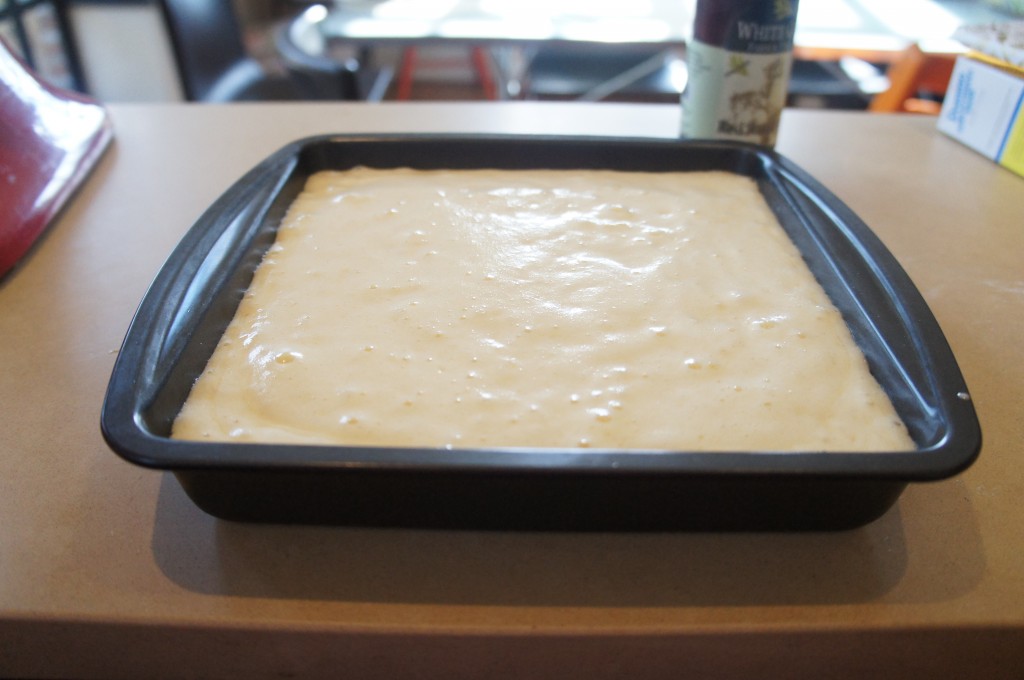 and pour into prepared pan
nycmom note:  I did not have a 9×9 pan. Instead of making one cake and cutting it in two  I used 2 8×8 pans which worked great EXCEPT I would not recommend using a glass pan – the batter does not like glass.  The metal pan turned out a beaut though.
While cake is baking prepare your chocolate icing.
You will need these….
and this – always excited when I remember to use my scale!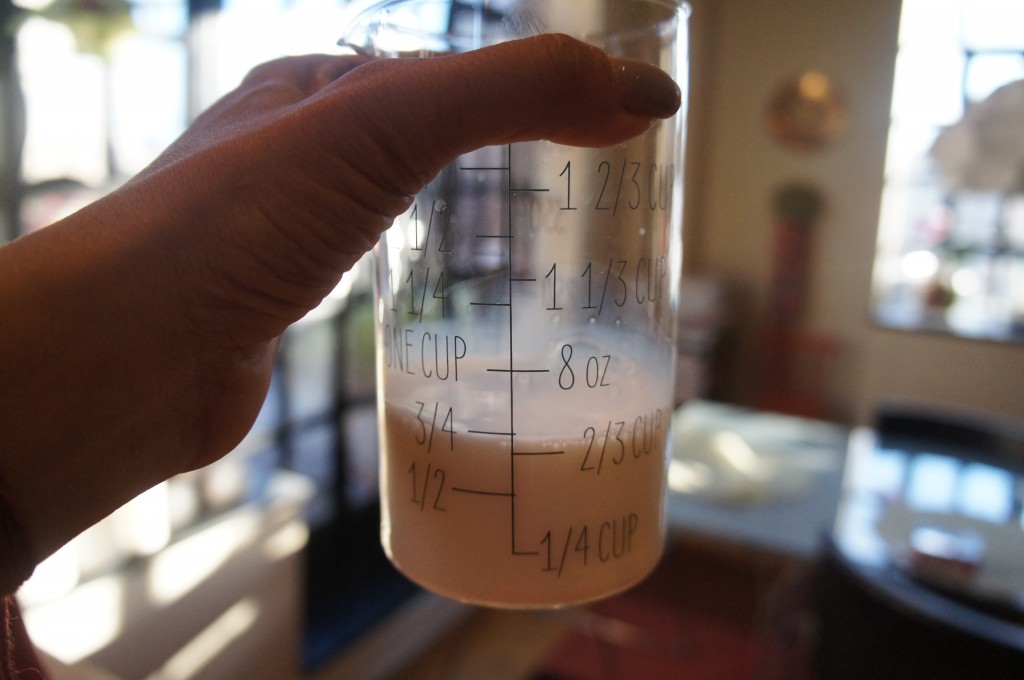 mix milk
butter and chocolate in a heatproof bowl over simmering water
add powdered sugar and cocoa powder ( I used cacao powder instead)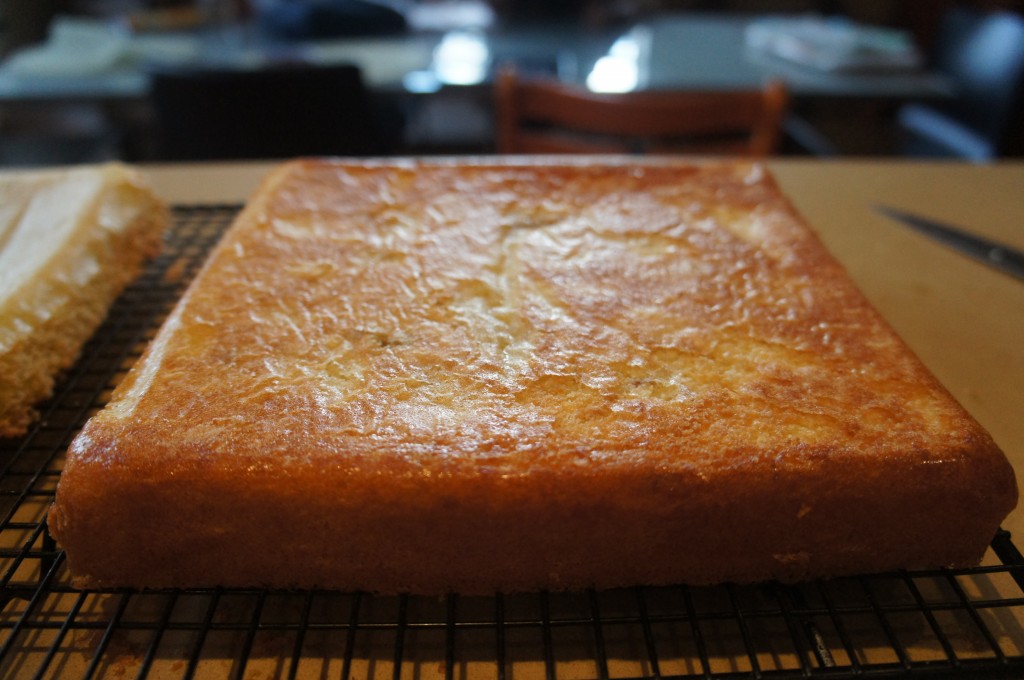 If you made one cake then cut in half horizontally and trim the ends. Â I made two (you can see a bit of the not-so-pretty one on the left!) so
just spread raspberry jam or whatever else you want to use and put the other cake on top
cut into 16 squares and you are ready to dip!
Set yourself up with a bowl of icing, a bowl of shredded coconut and a wire rack over a piece of wax paper.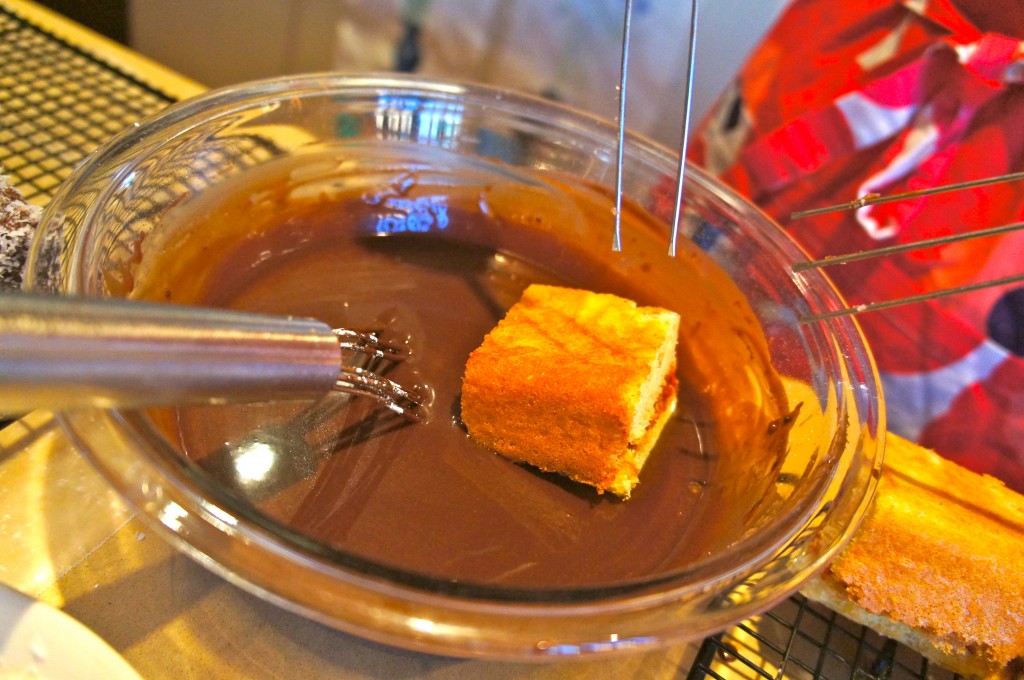 drop a cute little Lamington into the chocolate icing
move it around gently until it's totally covered
let the extra chocolate drip off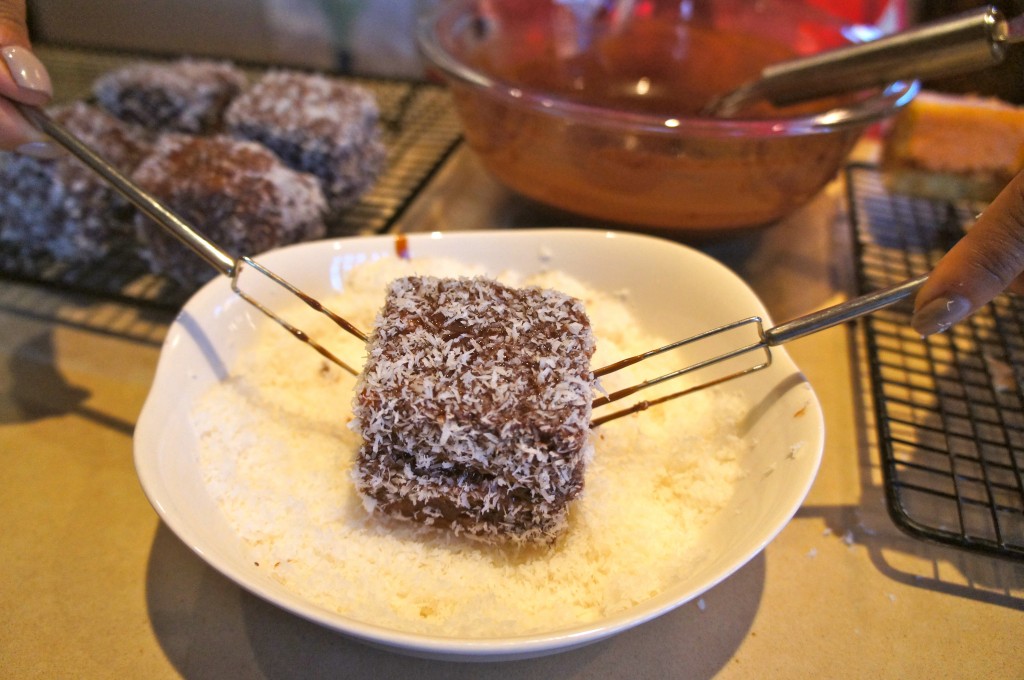 douse it in coconut!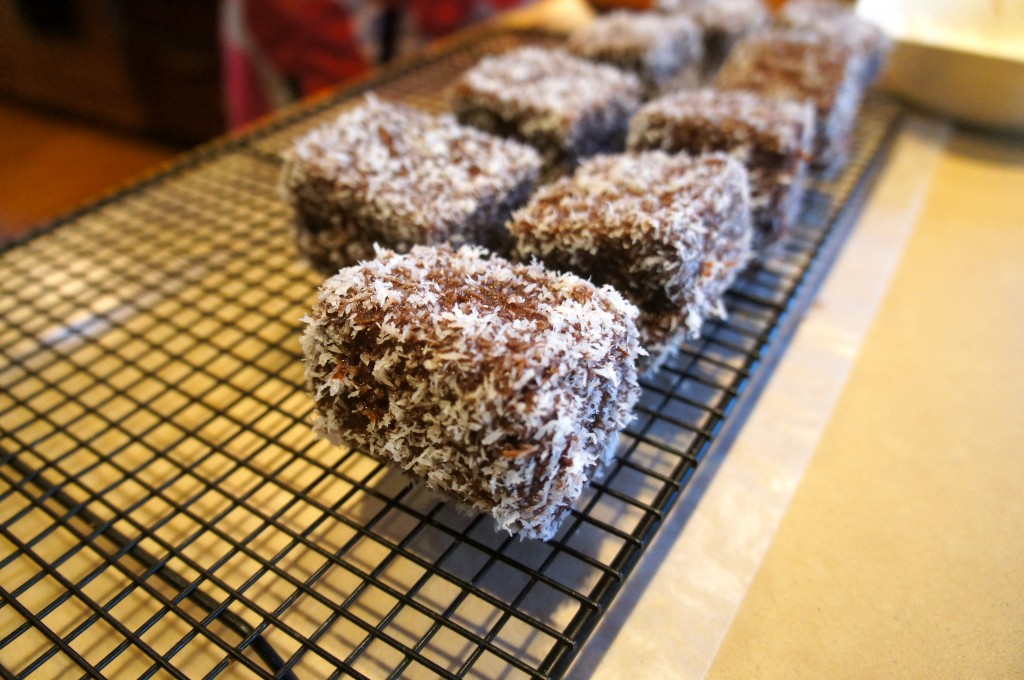 lovely!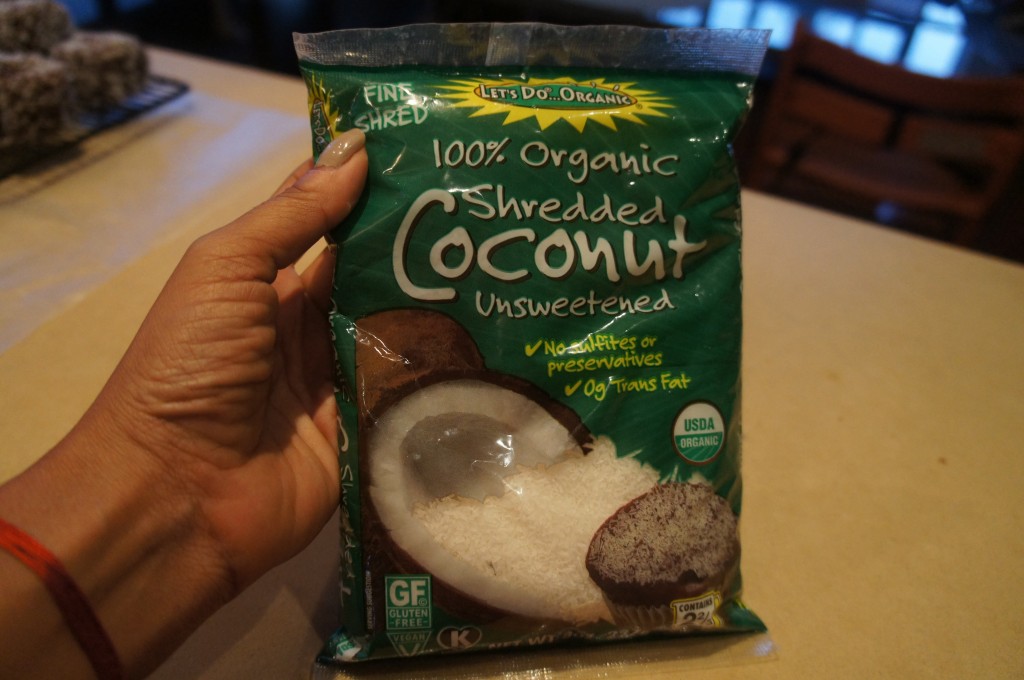 this is what I used – make sure it's unsweetened!
lovely little Lamingtons!
I used David Lebovitz's recipe here. Â I don't agree with him on fruit and chocolate not going well together so I put raspberry jam in the middle. Â He likes the chocolate sauce in the middle which would be hard to argue with. Â But really you could put anything! Â Marmalade, nutella, dulce de leche…endless.
LAMINGTON'S
For the spongecake:
6 large eggs, at room temperature
3/4 cup (150 g) sugar
1/4 teaspoon salt
1 teaspoon vanilla extract
1 1/3 cup (175 g) cake flour*
2 1/2 ounces (70 g) melted unsalted butter, at room temperature
For the chocolate icing:
6 ounces (170 g) bittersweet or semisweet chocolate, chopped
1 1/2 ounces (40 g) unsalted butter
3/4 cup (180 ml) milk, whole or lowfat
2 cups (220 g) powdered sugar
2 tablespoons unsweetened cocoa powder, natural or Dutch-process (sifted if lumpy)
2 tablespoons boiling water
3 cup (200 g) unsweetened shredded coconut
1. To make the spongecake, butter a 9-inch (23 cm) square cake pan and line the bottom with parchment paper. Preheat the oven to 350ºF (180ºC).
2. In the bowl of a stand mixer, whip the eggs and granulated sugar and salt on high speed for five to ten minutes, until thick and the batter forms a well-defined ribbon that remains on top of the batter when you lift the whip. Stir in the vanilla.
3. Fold the flour into the egg mixture by putting the flour in a sifter or mesh strainer and sifting the flour over the top of the beaten eggs while simultaneously folding the flour in using a whisk. (I used a spatula and it was fine!)
(You might want to steady the bowl on a damp towel, twisted and rolled up into a circle, or get someone to hold the bowl while you fold.) Fold in the melted butter until no streaks of butter are visible, but do not overfold.
4. Scrape the batter into the prepared pan and bake for 30 minutes, or until the cake begins to pull away from the sides of the pan. Remove from oven and let cool completely.
5. When cool, unmold the spongecake onto a cutting board and remove the parchment paper. Trim the ends and cut the cake in half horizontally using a serrated bread knife. (David finds it easier to cut the cake into two rectangles first, and then cut each one separately.) Â If using 2 8×8 you can just spread jam on one, top with the other and then trim edges and cut into squares.
6. Make the chocolate icing by melting together the chocolate, butter, and milk in a heatproof bowl set over a pan of simmering water. Remove the bowl from the pan of simmering water when smooth, then whisk in the powdered sugar and cocoa powder.
*if you are using chocolate icing in the middle*
7. Spread a generous 1/2 cup (125 ml) of the chocolate icing over one layer of the spongecake, then top with the other half of the spongecake, sandwiching the two together with chocolate icing in the middle.
8. Cut the cakes into sixteen squares and whisk two tablespoons of boiling water into the icing. Put the coconut into a shallow baking dish or bowl.
9. Use your hands to dip the Lamingtons into the chocolate, rolling them around to make sure each side is coated with the chocolate icing, then wipe off any excess on the side of the bowl. Place the Lamingtons in the vessel of coconut, tossing them around gently to get them coated on all sides.
10. Once iced and tossed in coconut, place the Lamingtons on a wire cooling rack and let stand until the icing firms up a bit.
 Let me know how your Lamington's turn out!  And if you have any versions I should try!