We have been playing around with our ice cream maker this summer (which, by the way, we have had for over 4 years and have neglected royally!) to great effect! Â Some of our favorites have been mint girl scout cookie chip and brown butter ice cream. Â We haven't quite mastered the custard base (using eggs to make a custard) which makes the ice cream really creamy and more scoopable. Â So it was intriguing to us to read about Jeni's Splendid Lemon Ice Cream which claims to be really creamy and scoopable and does not use eggs but a secret ingredient. Â We had to try!
I have to say this recipe is a little more complicated than the previous recipe I had been using for a base which was essentially heavy cream, milk and sugar that had to chill over night and then you added in flavor and mix-in's. Â But it did result in a wonderfully creamy texture entirely different than the eggless base. Â Magnifique! Â Give it a try folks!
First you need to squeeze some lemons…
Make sure to have 7 year old boy on hand to make necessary sour face.
The lemons need to be zested and juiced and made into a syrup with some sugar. Â Keep syrup aside to cool while you prep for the ice cream base. Â The base starts with a slurry which is a mixture of milk and cornstarch (always wanted to make a slurry!)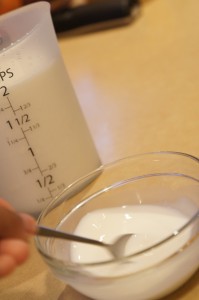 Next, whisk the cream cheese and salt in another bowl until smooth (yes! Â cream cheese is the secret ingredient! But really, what DOESN"T taste better with cream cheese, huh?)
We took this opportunity to use some of our fancy salt and good 'ole Philly cream cheese.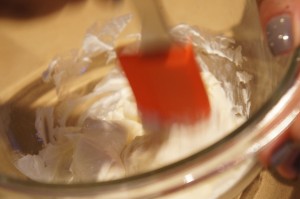 And now we are ready to fire up the stove! Â In a suacepan over medium high heat combine the milk and cream,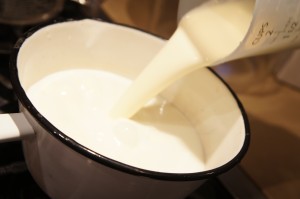 add the sugar,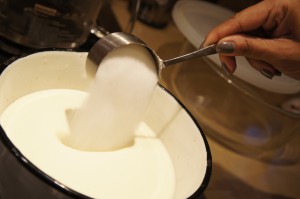 corn syrup,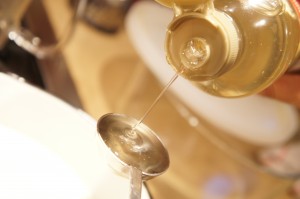 and finally the lemon zest,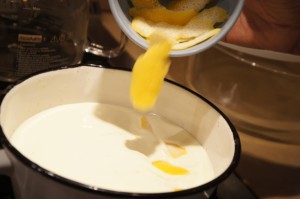 Bring to a rolling boil – for 4 minutes but watch carefully and stir!  Milky things have the tendency to boil over. Add in the slurry off heat and then bring back to a boil once again for 1 minute.  This is where things get  a little complicated…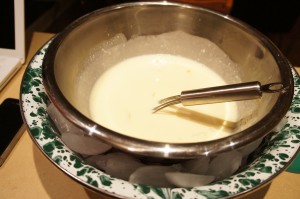 You want to gradually mix the hot milk mixture into the cream cheese mixture until smooth. Â Now Jeni recommends pouring this lemony milk mixture into a gallon ziplock bag and submerging that in an ice bath to cool for 30 minutes. Â Didn' do that! Â Just plopped the bowl into a bigger bowl filled with ice and let it sit for a bit and stirred it when I remembered. Â That seemed to do the trick.
Almost done here! Â Once your mixture has cooled down, remove the lemon zest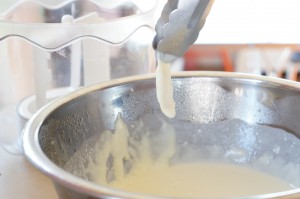 and pour into your frozen ice cream canister
Now remember that lemon syrup we made long ago?? Â It's up to bat! Â While the machine is on slowly pour it in.
And that's it! Â Pack into a freezer safe container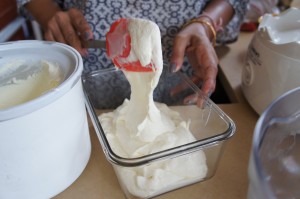 and freeze for 4 hours at least, overnight is better.
Jeni's right! Â It sure is splendid! Â So splendid in fact there are no pictures of us consuming…But take our word for it – deliciousness!
The recipe can be found at Food52 (which is an awesome website – check it out!) and I'm copying it below for your immediate consideration
Jeni's Slendid Lemon Ice Cream
Lemon Syrup:
2 to 3Â lemons
2 tablespoons sugar
Ice Cream Base:
2 cups whole milk
1 tablespoon plus 1 teaspoon cornstarch
1 1/2 ounce (3 tablespoons) cream cheese, softened to room temperature
1/8 teaspoon fine sea salt
1 1/4 cup heavy cream
2/3 cups sugar
2 tablespoons light corn syrup
Zest of 2 lemons (reserved from above)
Prep for the lemon syrup: Using a vegetable peeler, remove the zest from 2 of the lemons in large strips; reserve. Halve the lemons and squeeze enough juice to make 1/2 cup. Combine the lemon juice and sugar in a saucepan and bring to a simmer over medium heat, stirring until the sugar is dissolved. Remove from the heat and refrigerate until chilled. This won't be a very thick syrup.
Prep for the ice cream base: Mix about 2 tablespoons of the milk with the cornstarch in a small bowl to make a smooth slurry. Whisk the cream cheese and salt in a medium bowl until smooth. Fill a large bowl with ice and water.
Cook: Combine the remaining milk, the cream, sugar, corn syrup, and lemon zest in a 4-quart saucepan, bring to a rolling boil over medium-high heat, and boil for 4 minutes — watch it closely and stir occasionally to make sure it doesn't boil over. Remove from the heat and gradually whisk in the cornstarch slurry. Bring the mixture back to a boil over medium-high heat and cook, stirring with a heatproof spatula, until slightly thickened, about 1 minute. Remove from the heat
Chill: Gradually whisk the hot milk mixture into the cream cheese until smooth. Pour the mixture into a 1-gallon Ziploc freezer bag and submerge the sealed bag in the ice bath. Let stand, adding more ice as necessary, until cold, about 30 minutes.
Freeze: Remove the lemon zest. Pour the ice cream base into the frozen canister and turn on the machine. Pour the lemon syrup through the opening in the top of the machine, and continue to spin the ice cream until thick and creamy.
Pack the ice cream into a storage container, press a sheet of parchment directly against the surface, and seal with an airtight lid. Freeze in the coldest part of your freezer until firm, about 4 hours.