So my yoga teacher up and left. Â No warning. Â No explanation. Â No apology. Â Never mind that I have faithfully followed him for the last two years. Â Never mind that I loyally huffed and puffed my way through an hour and 15 minutes of hot vinyasa 2 times a week. Â Never mind that I endured the occasional sweat-flinging VERY sweaty man next to me just to do his class (hot yoga people – you know what I am talking about.) Â And he upped and left. Â Just like that.
This is why the class was so special: Â It was dark. Â There was good music. Â You were sweaty. Â Once in a while your shoulders were pushed back. Â Or your back was turned just so. Â If you closed your eyes through the chatarangas you could almost believe you were in a nightclub.
Which is why it feels like someone just broke up with me.
Gosh it's been so long since that has happened! Â What did I used to do back in the day? Â Let me think….let me think…Oh yeah! Â Chocolate! Â I used to eat chocolate! Â And listen to The Cure and cry. Â This time around I'll settle for just the chocolate.
So in honor of my bittersweat yoga goodbye, a bittersweet chocolate pudding pie.
Here's the how:
You need creme fraiche for this recipe so you can either buy it or make it at home. Â It's not that easy to find so I usually make it at home. Â All you need is a cup of really good heavy cream and 1 to 2 tablespoons of buttermilk. Â Stir together.
 Cover lightly and put on a warm shelf out of the way in your kitchen and check back in a day…
you need some of these yummies
mix those with some sugar
add melted butter and
press into a pie pan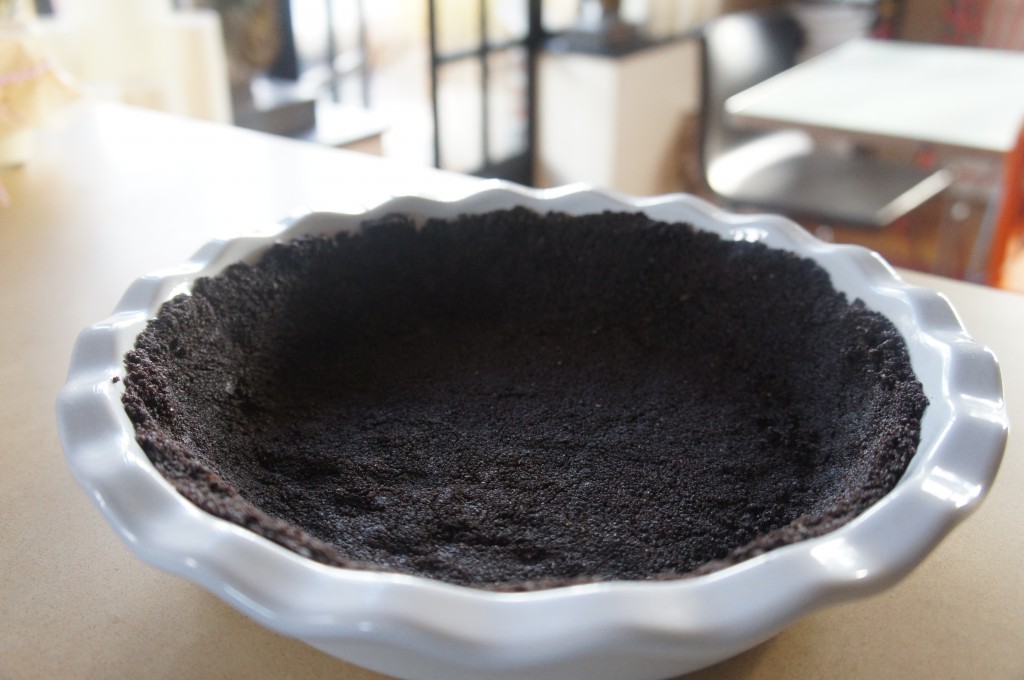 when done bake at 350° for 12 minutes.
chop some chocolate while you are waiting
when the pie crust comes out of the oven sprinkle with the chopped chocolate until all the pieces look glossy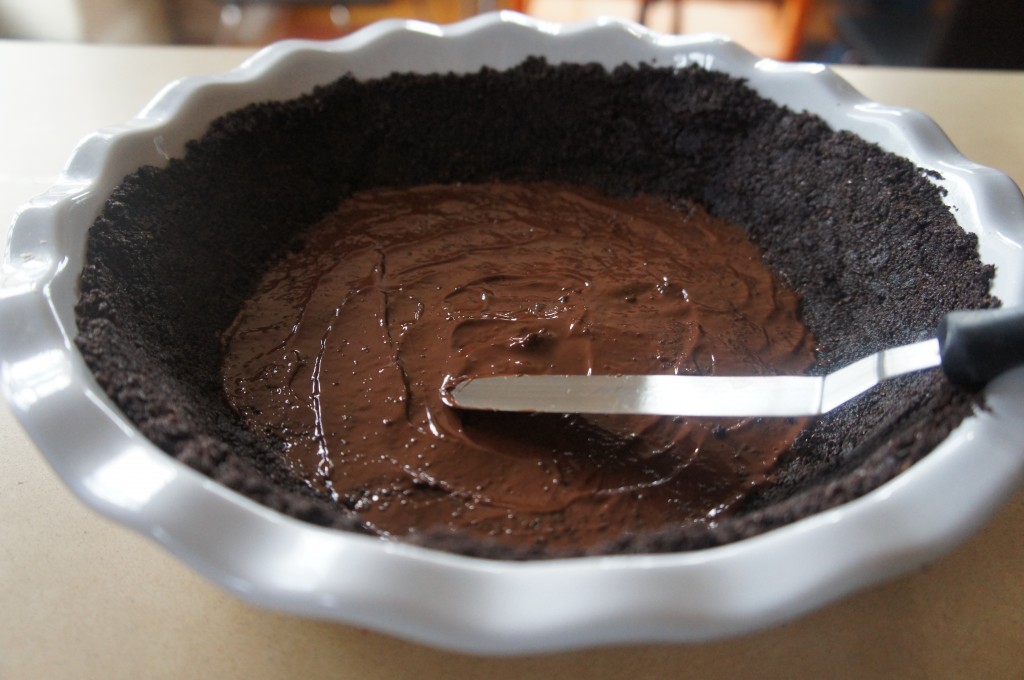 spread with offset spatula to cover bottom and chill. Â Not you. Â The crust.
Meanwhile, back at the ranch…mix sugar, cocoa, cornstarch and salt
add milk
and cream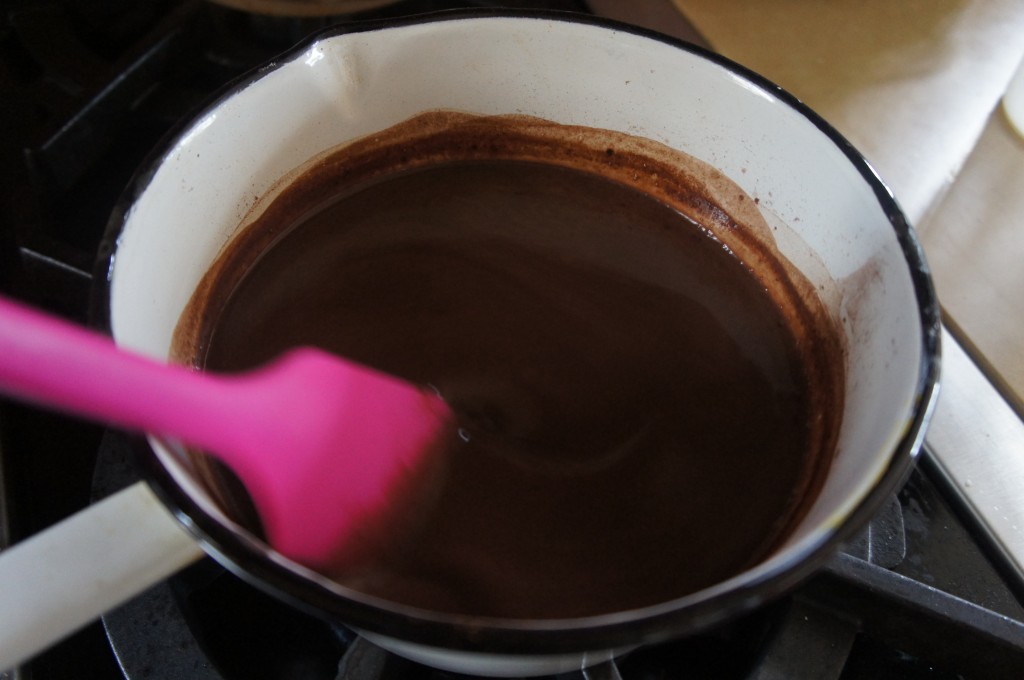 stir until mixture thickens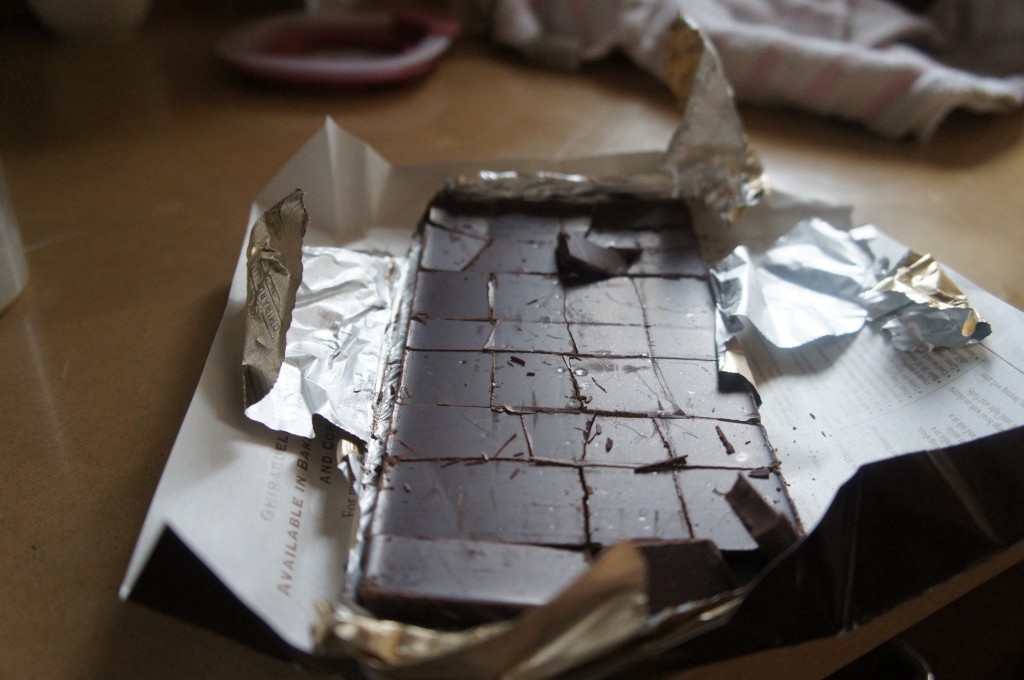 tip! Â break up chocolate while it is still wrapped up – less messy and works!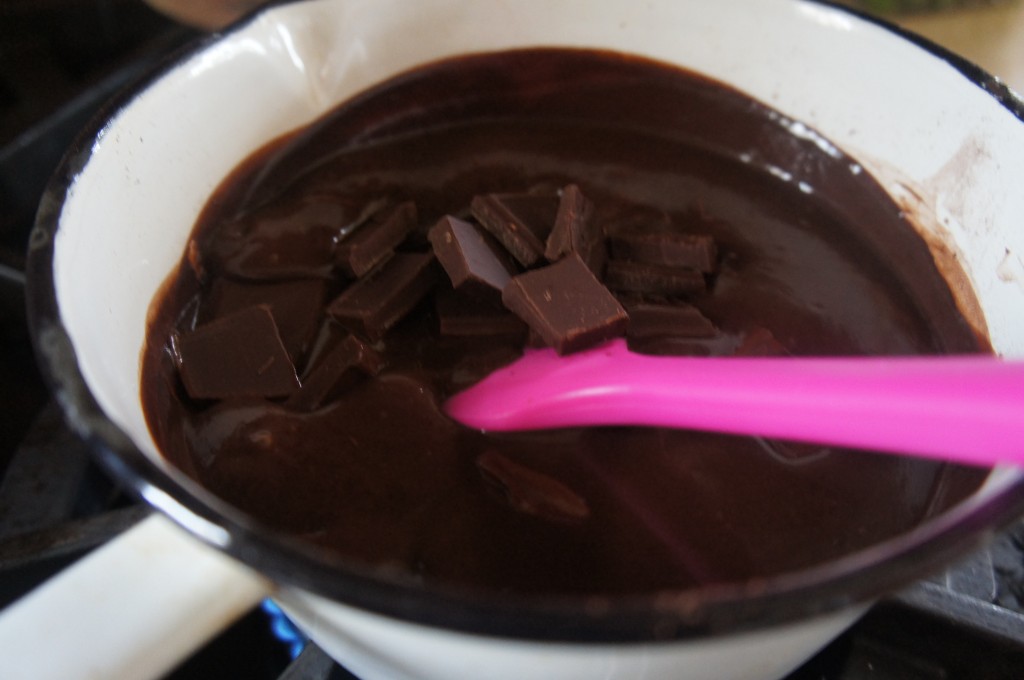 add chopped chocolate to mixture and stir till mixture is smooth.
pour hot pudding into crust and let cool for an hour.
Now onto the topping. Â You will need vanilla and heavy cream
and your yummy creme fraiche which has actually thickened up! Â Miracle of science!
 Whip it all together
wrestle the topping into a pastry bag!
a large star tip should do nicely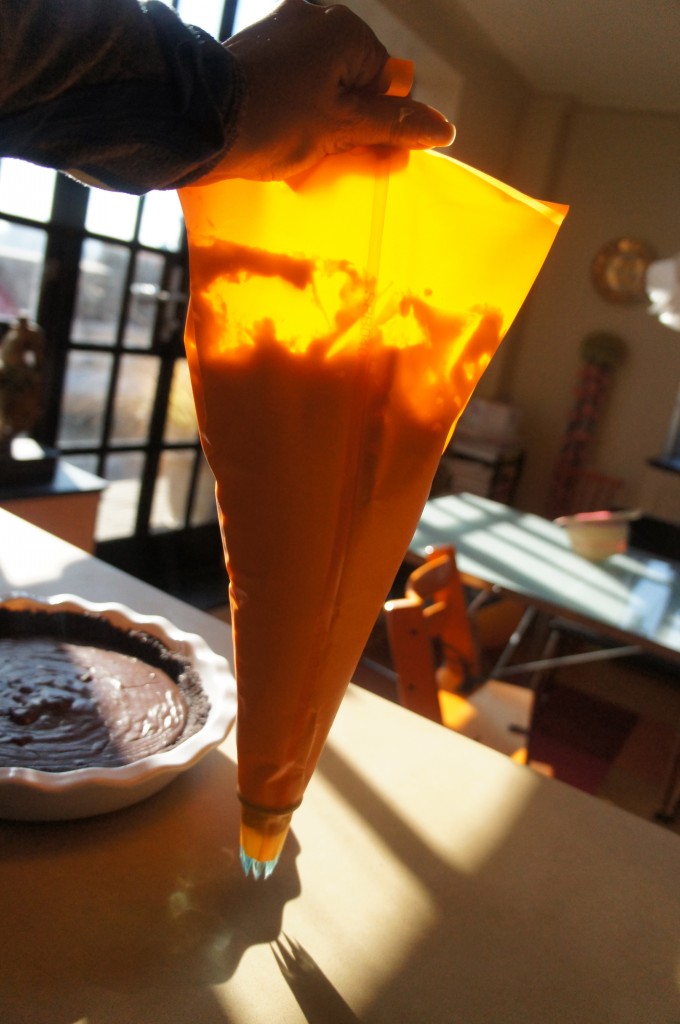 ta da!
start piping away! Â The good thing is that all cracks and slubs are covered right up.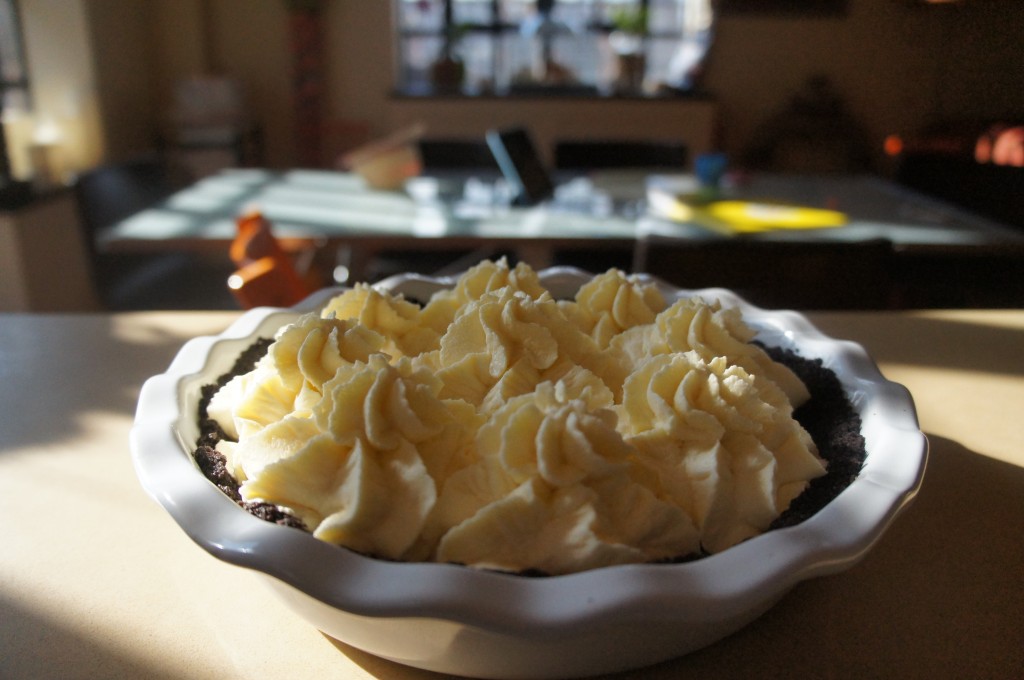 and there you have it!  Alternatively  (and what I have done 99% of the other times I have made this pie is to glob the creme fraiche mixture right on top.  Still yummy and quite arty)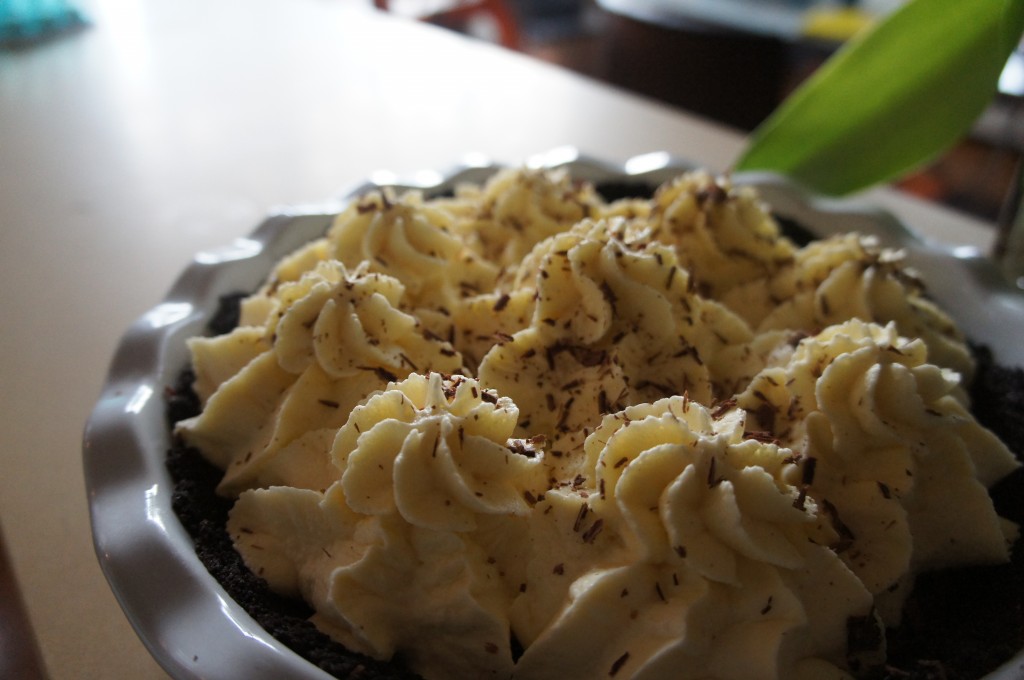 a dusting of chocolate shavings and Bob's your Uncle!
Adapted from Bon Appetit
Bittersweet Chocolate Pudding Pie
ingredients
Crust:
1 cup chocolate wafer cookie crumbs (about half of one 9-ounce package; about 23 cookies, finely ground in processor)
2 tablespoons sugar
5 tablespoons unsalted butter, melted
2 ounces bittersweet chocolate (60% cacao), finely chopped
Filling:
1/3 cup sugar
1/3 cup unsweetened cocoa powder
2 tablespoons cornstarch
1/8 teaspoon salt
1 3/4 cups whole milk, divided
1/4 cup heavy whipping cream
4 ounces bittersweet chocolate (60% cacao), finely chopped
1 teaspoon vanilla extract
Topping:
1 cup chilled crème fraîche*
1 cup chilled heavy whipping cream
1/4 cup sugar
1 teaspoon vanilla extract
Bittersweet chocolate shavings or curls (optional)
preparation
Crust:
Position rack in center of oven; preheat to 350°F. Blend cookie crumbs and sugar in processor. Add melted butter; process until crumbs are evenly moistened. Press crumb mixture onto bottom and up sides (not rim) of 9-inch-diameter glass pie dish. Bake until crust begins to set and no longer looks moist, pressing gently with back of fork if crust puffs, about 12 minutes. Remove crust from oven, then sprinkle chopped chocolate over bottom of crust. Let stand until chocolate softens, 1 to 2 minutes. Using offset spatula or small rubber spatula, spread chocolate over bottom and up sides of crust to cover. Chill crust until chocolate sets, about 30 minutes.
Filling:
Whisk sugar, cocoa, cornstarch, and salt to blend in heavy medium saucepan. Gradually add 1/3 cup milk, whisking until smooth paste forms. Whisk in remaining milk, then 1/4 cup cream. Using flat-bottom wooden spoon or heatproof spatula, stir mixture constantly over medium heat, scraping bottom and sides of pan until pudding thickens and begins to bubble at edges, about 5 minutes. Add chocolate; stir until mixture is smooth. Remove from heat; stir in vanilla. Pour hot pudding into crust and spread evenly. Cool 1 hour at room temperature. Cover with plastic wrap; chill overnight. DO AHEAD:Â Can be made 2 days ahead. Keep refrigerated.
Topping:
Using electric mixer, beat crème fraîche, whipping cream, sugar, and vanilla in medium bowl just until stiff peaks form and mixture is thick enough to spread (do not overbeat or mixture may curdle). Put into piping bag and pipe onto pie or spread topping decoratively over top of pie, swirling to create peaks, if desired. DO AHEAD: Pie can be made 6 hours ahead. Cover with cake dome and refrigerate.
Sprinkle chocolate shavings decoratively atop pie, if desired. Cut pie into wedges and serve.