Hey everyone!
I know, I know… I haven't been posting much. Even now, on winter-break, I still found some way to procrastinate until just now (the last day of break!).
But right when break started, I had a craving for chex-mix. I don't really know… I guess I had just forgotten that it had existed until then. But I really wanted it…
So I made it!
Now, let me tell you, this sounds like it makes a lot, but it'll go fast. And anyway, even if it doesn't, you can't get enough chex-mix! (especially the really addictive, home-made version!)
NOTE: We didn't really have all of the ingredients, so we improvised a bit (it was still delicious!). Our edits are written in pink.
The Cast of Characters (AKA "Ingredients"):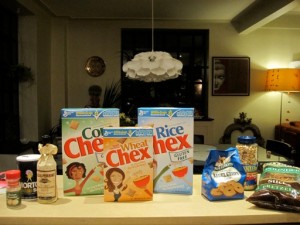 3 cups of Corn-Chex cereal
3 cups of Rice-Chex cereal
3 cups of Wheat-Chex cereal
1 cup of mixed nuts

(We just used peanuts)

1 cup of bite-sized pretzels
1 cup of bagel chips (broken up into 1-inch pieces)
6 tablespoons of butter

(We just used a whole stick, or 8 tablespoons)

2 tablespoons of Worcestershire sauce
1 1/2 teaspoons of seasoned salt

(We just used a mixture of regular and kosher salt)

3/4 of a teaspoon of garlic powder

(We didn't have any of this, so we just added a bit more onion powder)

1/2 a teaspoon of onion powder
Instructions:
1. Heat oven to 250°F.
2. Put a stick of butter in ungreased large roasting pan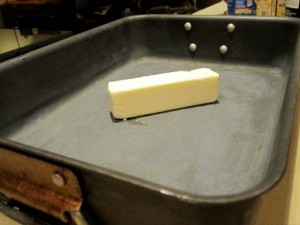 3. Melt the butter in the oven (you can do it while the oven's preheating).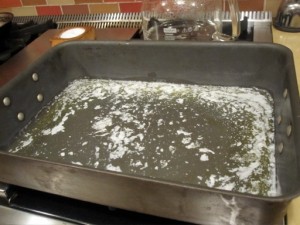 4. Stir in seasonings.
5. Gradually stir in cereals, nuts, pretzels and bagel chips until evenly coated.
6. Bake 1 hour, stirring every 15 minutes.
7. Spread on paper towels to cool, about 15 minutes.
8. Store in airtight container.
Soo….. I thought that this was a really yummy recipe! Even though we didn't have all of the ingredients, and we had to improvise a bit, it still turned out super! So I guess that means that you can always mix it up a bit, if you don't feel like running out to the store. And I think you can probably get about three batches out of the three boxes of cereal you'll have to buy, so you'll have an excuse to make multiple batches after the first! And always a good sign — it was gone by the next day!
Here's what my 6-year old brother had to say: "It's yummy, and the Chex are crunchy, and it's buttery, and the nuts and the pretzels are terrifically crunchy and its good and its… YUM!"
…and my younger sister says: "It's delightful, and I could eat it every day, and it's great and it's delicious, and it's super flavorful, and everybody should love it!"
So take their advice… and go make it!