ä½ å¥½æœ‹å‹ä»¬ï¼ï¼OK yes I know I'm not getting away with a ä½ å¥½ considering the elephant in the room is that I haven't posted for A YEAR
A YEAR
The only excuse I really have is that last year was my freshman year at a new school, so I decided it would make more sense to spend my time adjusting to my school and interacting with humans than being the secret middle aged woman that I am and running a food blog.
But don't fret, my veggie straws, because I am back! And I've created a checklist (that hopefully I'll stick to):
post once a week, yo
um take pictures of food that are actually APPEALING
maybe get people to read this blog??!
So yes good let's see how long I can keep this up! On another note, I just got back from studying for a month in China! Meaning I have lots of interesting food experiences to share, yo!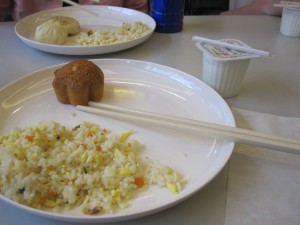 So basically I was studying on a college campus for a month, the downside of which was crappy cafeteria food. THe above picture is fried rice and some cute little chinese bread thing. AND
THe cutest little yogurt things which made eating the same thing everyday WORTH IT
However, I did venture outside of cafeteria food! Some interesting finds at the Chinese mall incluDED
honeymoon dessert??
this looked like a cute little bakery but turned out to only have weird chinese desserts (you know, like red bean glutinous rice balls)
BREADTALK
(i never actually bought anything from here but its still kind of my favorite place ever bc i mean its called breadtalk)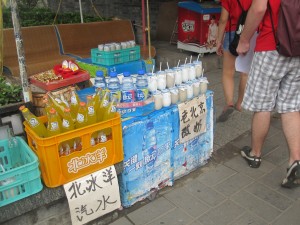 I also found that, throughout Beijing, these little yogurt things were served EVERYWHERE. I never actually tried one tho?!
Some ""old beijing snacks""
weird foaming drinks??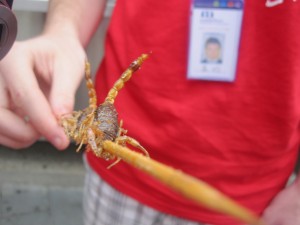 DEEP FRIED SCORPIONS ON A STICK EGAD
(WHICH I DIDN'T EAT EITHER)
chinese starbucks!!
inside of kfc woo!! (which there were only 281324 of in china)
guy selling lotus root on the street!!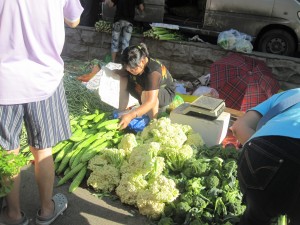 adventures at the 早市, or morning market (equivalent to the farmers market in america!)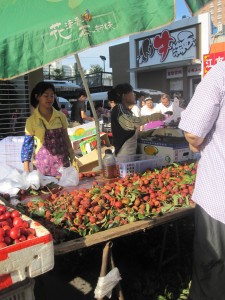 lychees??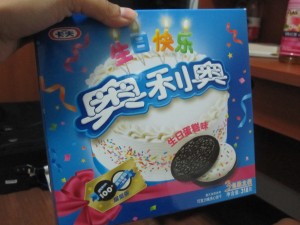 chinese birthday cake oreos!! (I probably shouldn't mention that I INHALED THIS WHOLE BOX)
This was at a 小吃店 (small local restaurant in china)– one of the differences between a 小吃店 and a restaurant is that there are no menus so you have to go up to the counter and order (STRESSFUL)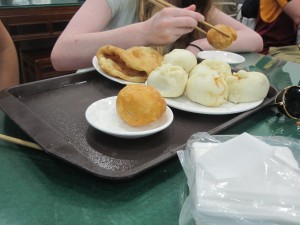 Here's what we ordered! Some youtiao (fried bread), some fried doughnut-y balls (that you dip in sugar before you eat!), and some beef steamed buns (niuroubaozi).
389275138x better than cafeteria food I can tell you THAT.
There was this one tea chain all throughout Beijing that had the BEST bubble tea omfgag;ELIGHALS;IGDKsg
SO this happened when we ended up in some sketchy sechuan restaurant in the mall, and as you can see in the center of the picture THEY WERE SELLING CHICKEN CLAWS ON A STICK
we somehow managed to avoid ordering those but ended up ordering THIS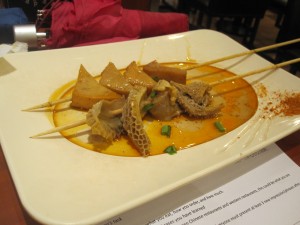 IT WAS AN ACCIDENT
((i think those are tentacles))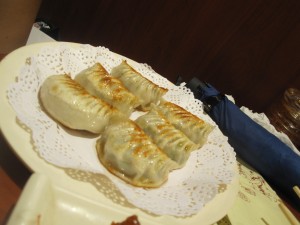 these dumplings were pretty good tho (and tentacle free)
some more BAOZI (bc delicious)
and the cutest little soup keychain AW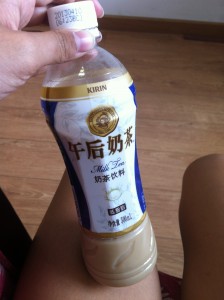 Everyone knows milk tea is swaggalicious but I've never seen it pre bottled like this until china?! Anyway this twas really good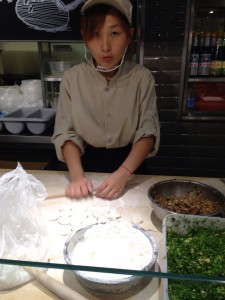 woman making us dumplings @ some random food court in shanghai!! (idk why shes giving us the stink eye in this picture lol)
THESE WERE SO GOOD
they were basically scallion pancakes but covered in sesame seeds ??
???!
OH AND LASTLY
IF YOU ARE EVER IN CHINA
GO TO HAAGEN DAZ
BC IT IS NOT LAME LIKE IN THE US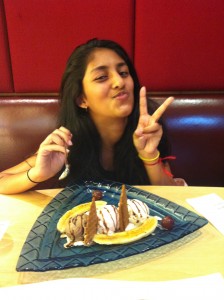 ITS SO COOL WOW
YOU HAVE A WAITER AND EVERYTHING
AND THEY LIKE SEAT YOU DOWN
WITH LIKE FANCY LITTLE WATER GLASSES
AND YOU ORDER FANCY ICE CREAM PLATTERS OFF THE MENU
WOW SO COOL I WAS IN SHOCK