Every week starts out with such good intentions. Â Early to bed on Sunday. Â Up and at em' early Monday morning – lunches made, breakfast served, homework done. Â People are on schedule and appointments and classes are being met on time. Â And then by Wednesday or Thursday this happens: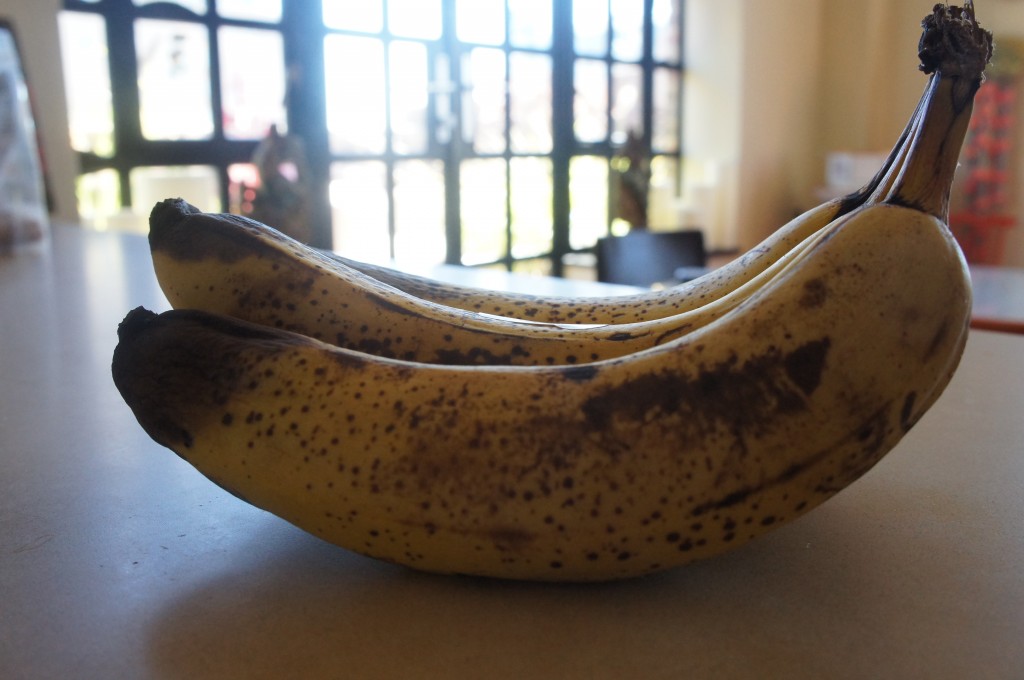 Why?? Â Why oh why do I consistently buy bananas at the beginning of each week with good intentions and then this? Â Everybody loves bananas and asks for them…but….what?? Â They forget? Â They don't see them sitting there all lonely in the fruit bowl until it too late? Â I can't explain it. Â Because if there are no bananas then of course everyone asks for them.
And of course no one wants to eat bananas with BROWN SPOTS on them!
No one believes me when I say that the spots actually make them sweeter. Scientifically, when the starch in the bananas convert to sugar the brown spots appear. Â The more brown spots the sweeter the banana! Â In the minds of my kids though they have just entered the "gross" category and cannot be brought to their precious lips. Â  Luckily I have an indelible image in my mind from David Chang's magazine Lucky Peach of what a banana should look like if you want to make Momofuku's Banana Cream Pie.
WARNING: Â GRAPHIC IMAGES AHEAD!!!
Here is it:
Yes folks – those is bananas! Â And boy are they ba-lack! Â And mighty tasty! Â Betcha didn't know you could still eat them at this point, huh? Â Don't think I would actually eat them but baking with them is another story. Â  They are basically all sugar goodness at this point.
For those who don't know – David Chang is a master chef and Momofuku is his restaurant empire here in NYC – I think he has about 5.  I am lucky enough to live 2 blocks away from a dessert outpost of his called  the MILK bar.  What a lucky peach am I??
So with David Chang and Christina Tosi (his CEO of dessert) on my side  – and who wouldn't want those two at your back? – I can let those babies sit on the counter a little longer until I am good and ready to whip them into banana bread.  And this I do about once a week.  Because of the banana situation in my house that I cannot get under control.
These are the reasons banana bread gets baked weekly in my house:
We always have bananas about to swim with the fishes
I am too optimistic when grocery shopping
Someone always requests banana bread for breakfast  (okay I admit to serving this for breakfast!  It is kinda fruity!)
There is always some school breakfast/lunch/dinner/bakesale I am required to bring something to.
Did I mention the black bananas?
Luckily I have made this banana bread soooo many times that I can practically taste it without actually tasting it. Â I have no desire to dig in. Â (Ok, maybe when I take it right out of the oven and it's all warm and irresistible. Â Maybe then.) Â I don't even feel like having a slice anymore. Â And my jeans thank me for that.
It is also very forgiving. Â I've made it with a mix of white and whole wheat flour, substituted yogurt/kefir/vanilla yogurt for sour cream. Â Added walnuts. Â Or peanut butter. Â Or peanut butter chips. Â Used 2 bananas. Â Sometimes four. Â Mini chips, regular size. Â Made it in two smaller pans. Â This recipe DOES NOT CARE! Â It is your friend. Â It has in fact become my BFF. Â Who else can come into your house feed your family, make your house smell great, use up the food going rotten and not tempt you in any way? Â Ok, maybe Alice from the Brady Bunch but I think she may have expired herself.
So here's the how: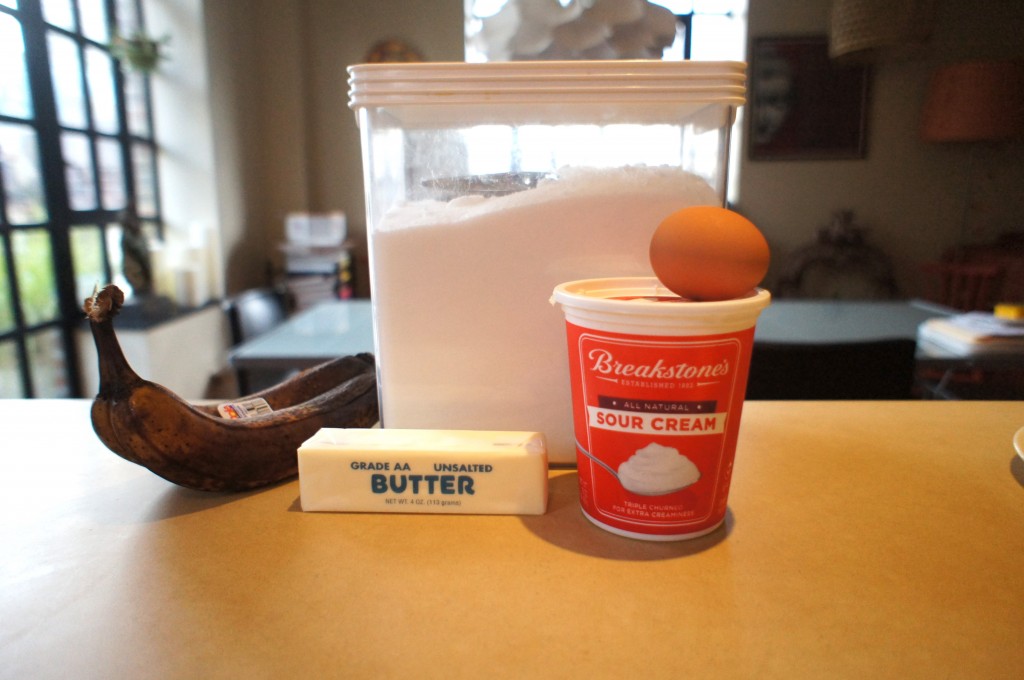 These and flour, chips, baking soda, salt and turbinado sugar.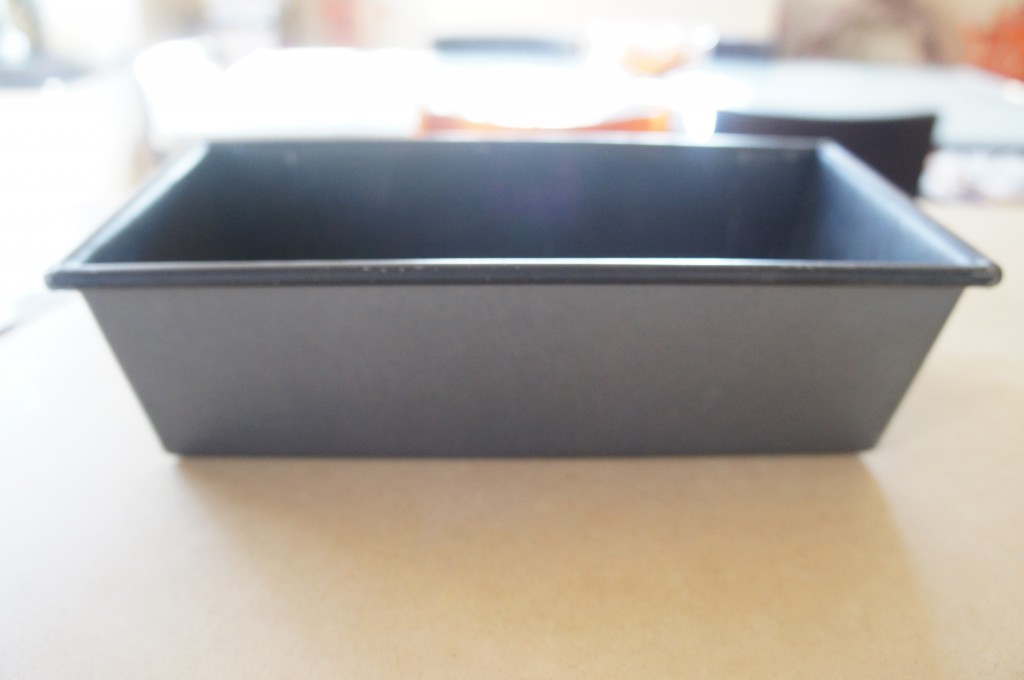 You need to butter and flour a 9×5 loaf pan. Â Because I make this so often I cut a piece of Silpat to fit the bottom and voila – no need to butter and flour!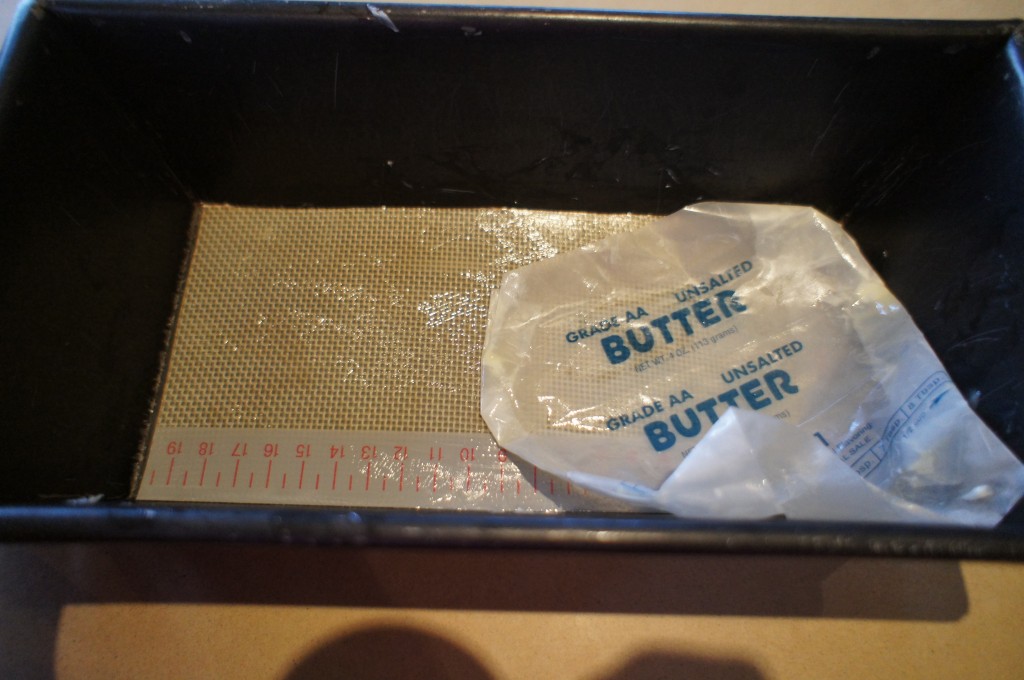 That's 30 seconds of your life you can do something else with! Â There is no need to butter the silpat since NOTHING sticks to that stuff but since I have the buttery wrapper laying around I always just give it a rub…
That ingenious idea was brought to you by nyckid, by the way.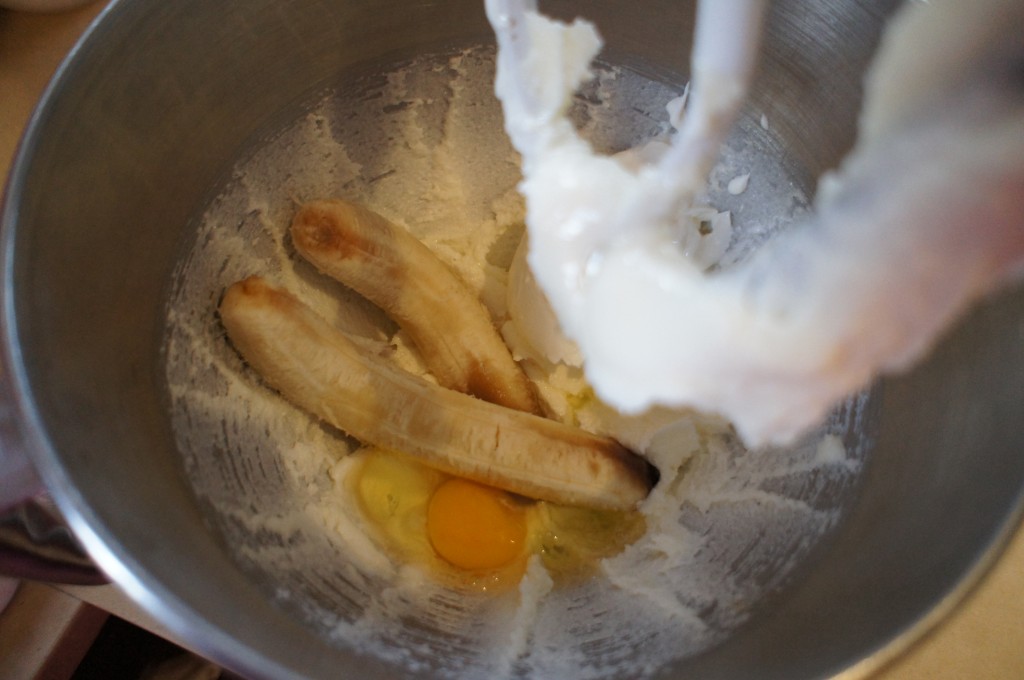 Once you've creamed the butter and sugar together just add the eggs, bananas, vanilla and sour cream.
*biscuitwallahtip* if you use really ripe bananas you don't need to mash them before you throw them in the mixer – they are sooo soft the mixer will do the job for you
see? Â no big banana chunks!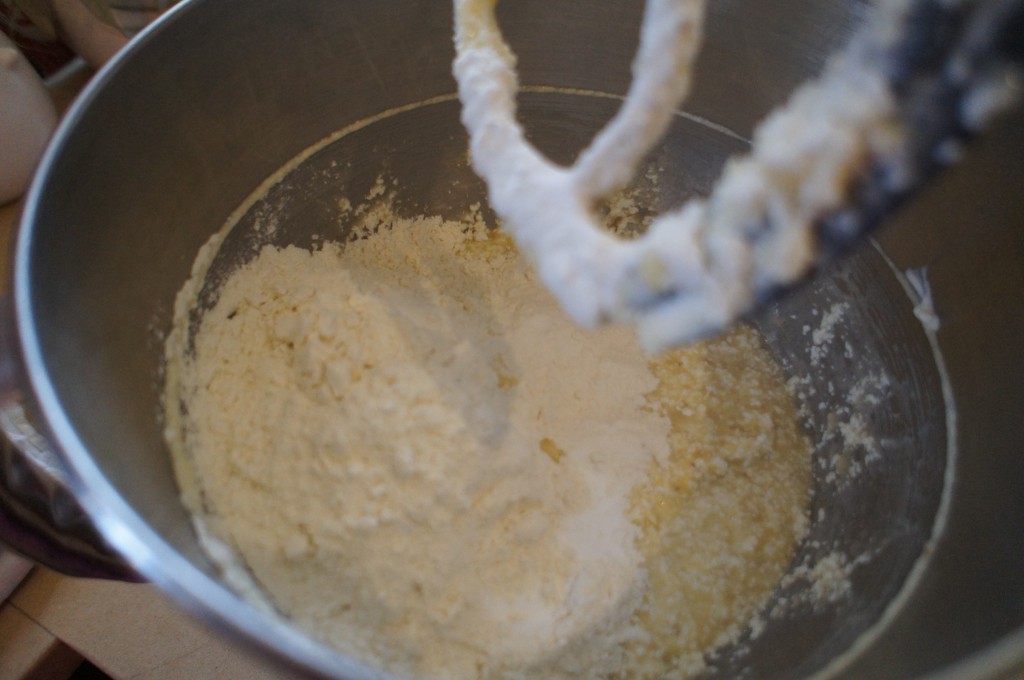 Add flour, baking soda and salt.
Give it a whirl till it looks like this.
Throw in the chips and nuts if you are using.
One last whirl and you are done!
Pour into pan…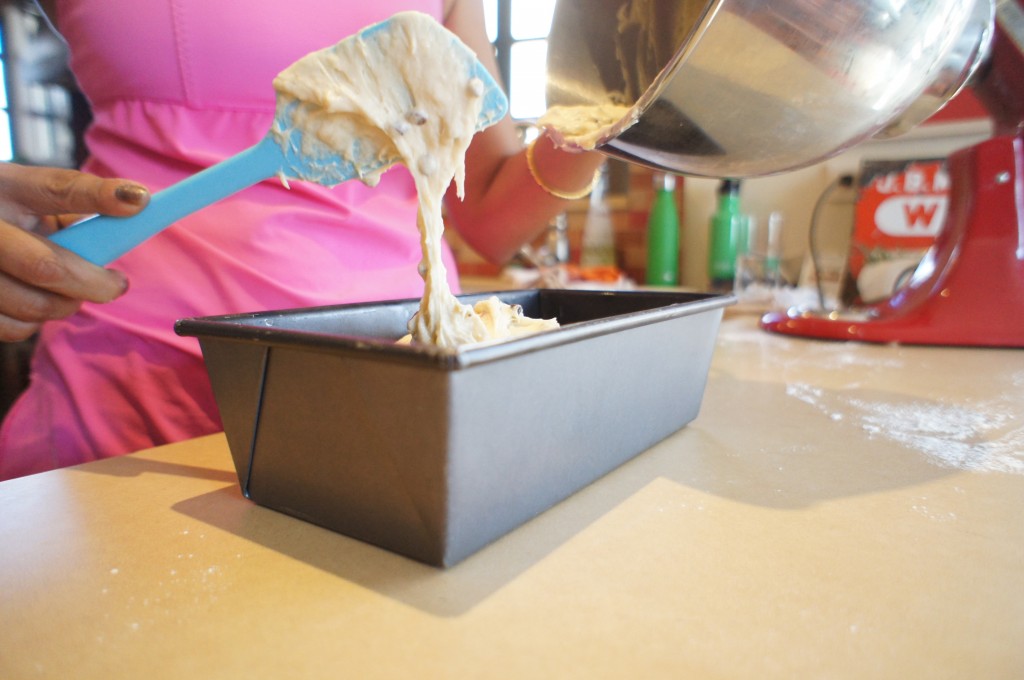 Make sure to make a mess with the flour on counter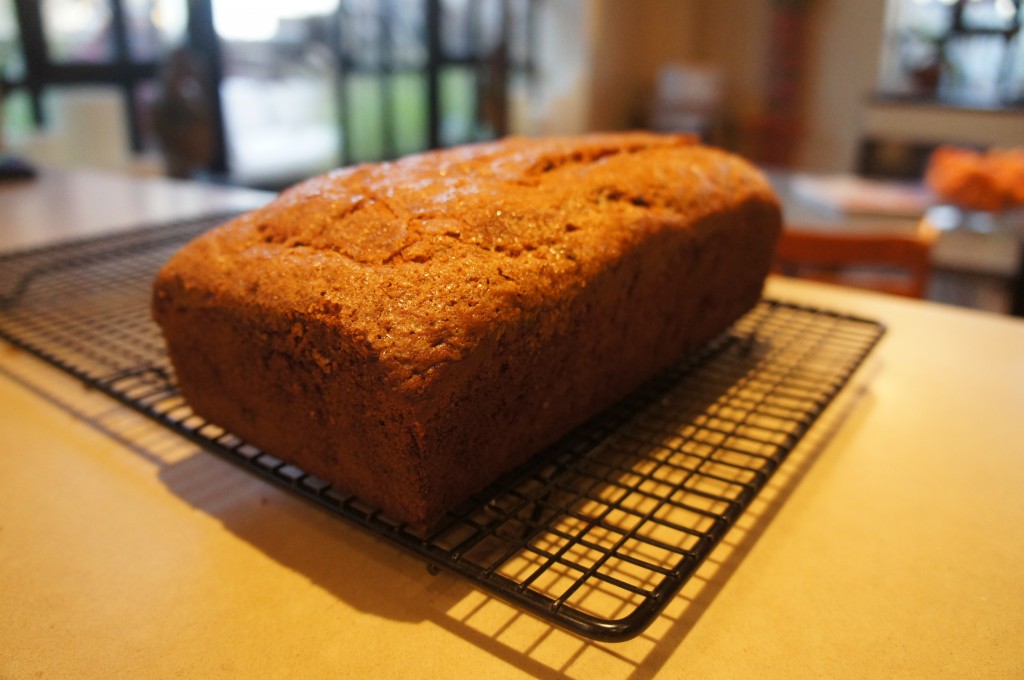 After about an hour you get this.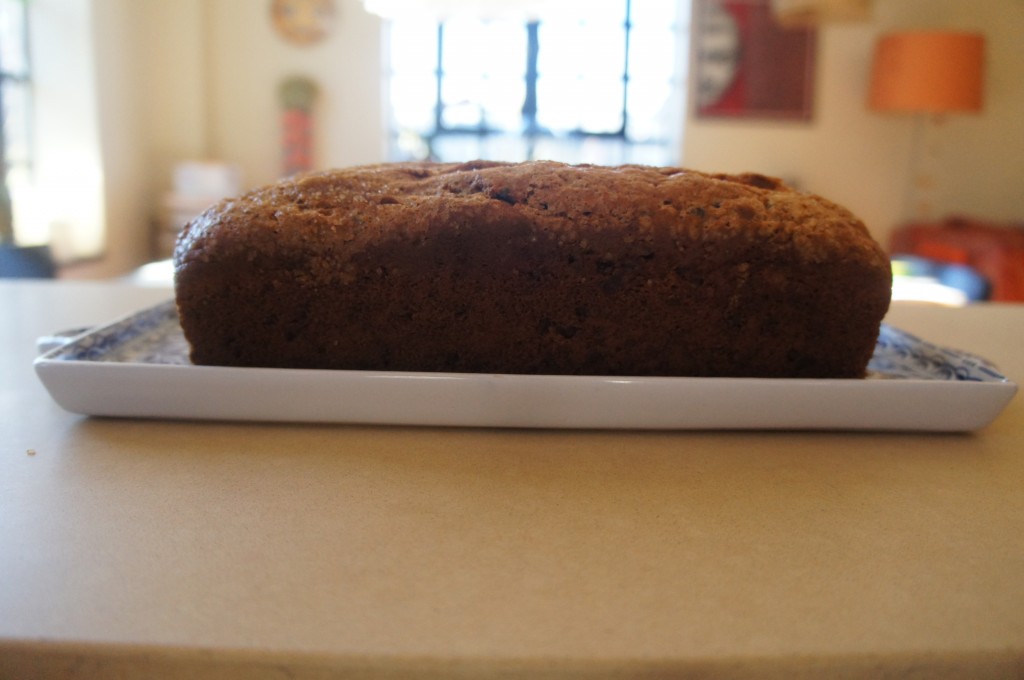 It actually tastes better tomorrow if you can wait….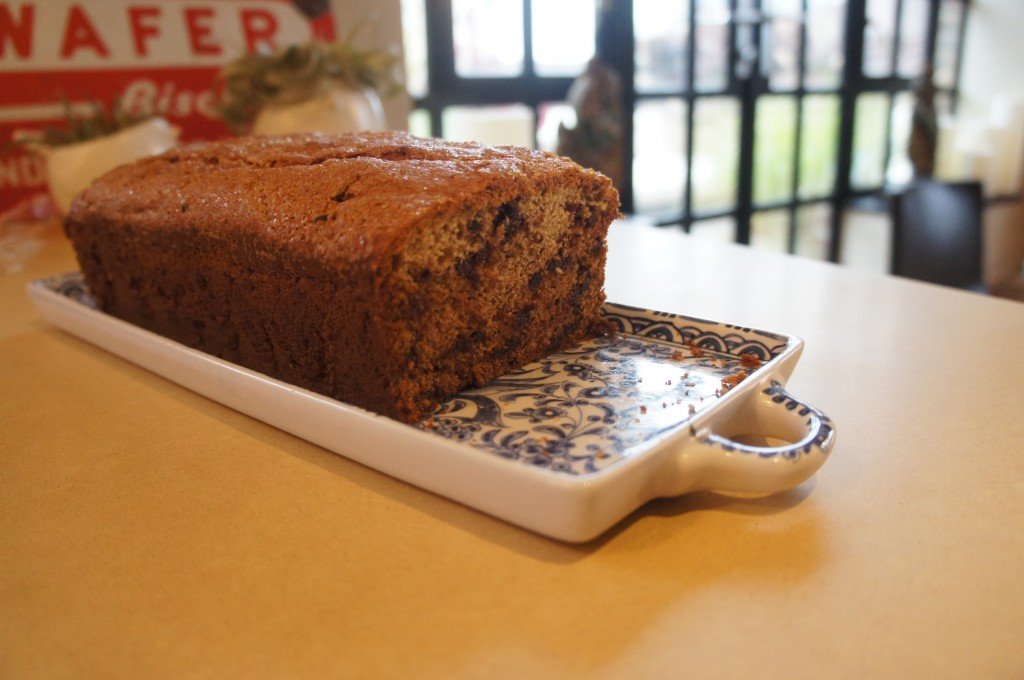 for brekkie!
Chocolate Chip Banana Bread
adapted from Pillsbury The Complete Book of Baking
Ingredients
3/4 cup sugar
1/2 cup butter, room temperature
1 cup (2 medium) really ripe bananas (many times I use 3 or 4 – depending on how many are going bad!)
1/2 cup sour cream
2 eggs, room temperature
1 teaspoon vanilla
2 cups of flour
1 teaspoon baking soda
1/2 teaspoon salt
3/4 cup mini chocolate chips
turobindo sugar for topping
Heat oven to 350°
Grease and flour bottom only of a 9×5 or two 8×4 inch loaf plans. Â Or alternatively butcher up an extra piece of silpat and use forever.
Beat butter and sugar till fluffly.
Add bananas, sour cream, eggs and vanilla. Â Blend well.
Add flour, baking soda and salt. Give it a whirl.
Dump in chocolate chips (and any other add in's you may be using at this point.)
Pour into pan. Â Sprinkle top with turobindo sugar. Â Generously.
Bake for 55 to 65 minutes depending on your oven.
Cool for 15 minutes. Â Remove from pan and cool completely.
Thanks for being in our lives Alice. Â BFF!!