Well, that and all other good things, for that matter. (hehe)
Let me explain. The other day, we had too many eggs. And I mean we had wayyy too many eggs. We had so many eggs we were giving them away as presents! So, I decided to make some baked goodies from: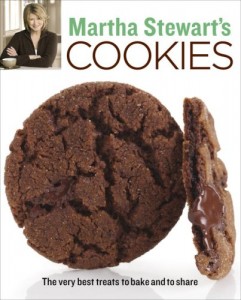 Martha Stewart Cookies!!!!!
There were a lot of cookies to choose from, but eventually, I decided on sugar cookie cutouts, and peanut butter swirl brownies. (technically, those aren't cookies, but they were in the book!)
Sugar Cookie Cutouts:
Ingredients:
4 cups sifted* all purpose flour, plus more for dusting
1 teaspoon baking powder
1/2 teaspoon salt
1 cup (2 sticks) unsalted butter, room temperature
2 cups sugar
2 large eggs
2 teaspoons pure vanilla extract
Instructions:
Sift flour, baking powder, and salt into a bowl.
Put butter and sugar in the bowl of an electric mixer fitted with the paddle attachment. Mix on medium speed until pale and fluffy. Mix in eggs and vanilla. Reduce speed to low. Gradually mix in flour mixture. Divide dough in half; flatten each half into a disk. Wrap each in plastic. Refrigerate until firm, at least 1 hour or overnight.
Preheat oven to 325 degrees with racks in upper and lower thirds. Let one disk of dough stand at room temperature just until soft enough to roll, about 10 minutes. Roll out dough on a lightly floured work surface to just under 1/4 inch thick, adding more flour as needed to keep dough from sticking. Cut out cookies with a 4-to-5-inch cookie cutter, transferring shapes to parchment paper-lined baking sheets as you work. Roll out the scraps, and repeat. Repeat with remaining disk of dough. Transfer baking sheet to freezer, and freeze until very firm, about 15 minutes.
Bake, switching positions of sheets and rotating halfway through, until edges turn golden, 15 to 18 minutes. Let cool on sheets on wire racks.
Decorate however you want! We dipped half of each cookie into a bowl of candy melts, and then decorated with sprinkles. Be creative!
*Here's a tip: you don't have to sift the flour! Ever!
Peanut Butter Swirl Brownies:
Ingredients:
For the batter:
1/2 cup (1 stick) unsalted butter, cut into small pieces, plus more for pan
2 ounces unsweetened chocolate, coarsely chopped
4 ounces semisweet chocolate, coarsely chopped
2/3 cup all-purpose flour
1/2 teaspoon baking powder
1/4 teaspoon coarse salt
3/4 cup granulated sugar
3 large eggs
2 teaspoons pure vanilla extract
For the filling:
4 tablespoons (1/2 stick) unsalted butter, melted
1/2 cup confectioners' sugar
3/4 cup smooth peanut butter
1/4 teaspoon coarse salt
1/2 teaspoon pure vanilla extract
Instructions:
Preheat oven to 325 degrees. Butter an 8-inch square baking pan and line with parchment, allowing a 2-inch overhang. Butter lining (not overhang).
Make batter: Put butter and chocolates in a heatproof medium bowl set over a pan of simmering water; stir until melted. Let cool slightly. Whisk together flour, baking powder, and salt in a bowl.
Whisk granulated sugar into chocolate mixture. Add eggs, and whisk until mixture is smooth. Stir in vanilla. Add flour mixture; stir until well incorporated.
Make filling: Stir together butter, confectioners' sugar, peanut butter, salt, and vanilla in a bowl until smooth.
Pour one-third of batter into prepared pan; spread evenly with a rubber spatula. Drop dollops of peanut butter filling (about 1 tablespoon each) on top of batter, spacing about 1 inch apart. Drizzle remaining batter on top, and gently spread to fill pan. Drop dollops of remaining filling on top. Gently swirl peanut butter filling into batter with a butter knife, running the knife lengthwise and crosswise through layers.
Bake until a cake tester inserted into brownies (avoid center and edges) comes out with a few crumbs but is not wet, about 45 minutes. Let cool slightly in pan, about 15 minutes. Lift out; let cool completely on a wire rack before cutting into squares. Brownies can be stored in an airtight container at room temperature up to 3 days.
So, here's some stuff I noticed. The sugar cookies were supposed to make "2 dozen 4-inch cookies". And we got at least 50. But that's probably because we used different sized heart cookie cutters, and I doubt all of them were 4-inch. So, yeah. If you don't want a lot of cookies (and I mean A LOT), stick to the 4-inch cutters. 🙂
And for the brownies, the swirl trick might sound confusing. I know I was confused. So basically, you just have to put blobs of peanut butter filling on top, and take a butter knife, and drag it through them in a criss-cross pattern. And make sure the tip of the knife hits the bottom of the pan. Â  Â  Â  Â  Â  Â  Â  Â  Â  Â  Â  Â  Â  Â  Â  Â  Â  Â  Â  Â  Â  Â  Â  Â  Â  Â  Â  Â  Â  Â  Â  Â  Â  Â  Â  Â  Â  Â  Â  Â  Â  Â  Â  Â  Â  Â  Â  Â  Â  Â  Â  Â  Â  Â  Â  Â  Â  Â  Â  Â  Â  Â  Â  Â  Â  Â  Â  Â  Â  Â  Â  Â  Â  Â  Â  Â  Â  Â  Â  Â  Â  Â  Â  Â  Â  Â  Â  Â  Â  Â  Â  Â  Â  Â  Â  Â  Â  Â  Â  Â  Â  Â And something I realized while typing up the recipe: I think I forgot to put in half the chocolate. But it tasted fine to me, so if you don't really like a lot of chocolate, just leave it out!
So stay tuned, folks! Coming up next: INDIA!!!