Hey y'all!
Happy happy Mother's Day to you out there!  I know some of you probably get breakfast in bed and homemade cards and gifts and all.  Drink it in!  We are a little more casual here in our house. I do get cards and gifts but for some reason I thought it would be a good idea to host my entire extended family for Mother's Day about 10 years ago. Well, my extended family has now grown to be about 35 people.  That includes my mom and her two sisters and their kids and their kids.  Phew!  We've got all generations mingling here and it's always fun albeit a little hectic.  Needless to say it's not much of a  Mother's Day for me.  I usually get up early, go for a run and hit the ground running for guests arriving at noon.  Ten years I've been doing this!  And as my brother-in-law Russ mentioned – he has it good!  He gets to come into the city, hang out at our apartment, eat good food, drink a beer, go for a walk in Central Park and go home!  And his wife is happy!  Mother's Day done!  And I wouldn't have it any other way.
This year I decided to try something different. Â My brother-in-law Justin usually makes Momofuku Bo Ssam which is this melting good pork butt that has been in the oven for about a thousand hours. Â And all these amazing dipping sauces to go with it. Â You take some pork, wrap it in lettuce and add some sauces. Â OMG. Â David Chang doesn't fool around. Â As amazing as it tastes it is quite easy to make. Â So he was assigned the entree.
I took dessert – obvi! Â I made a tres leches cake and a chocolate pie with pretzel crust and peanut butter whip.
And my friend Katie  – former nanny of one of my BFF's from Colorado who is now a chef in Brooklyn  – made all the sides and apps.  It worked quite nicely!  See for yourself!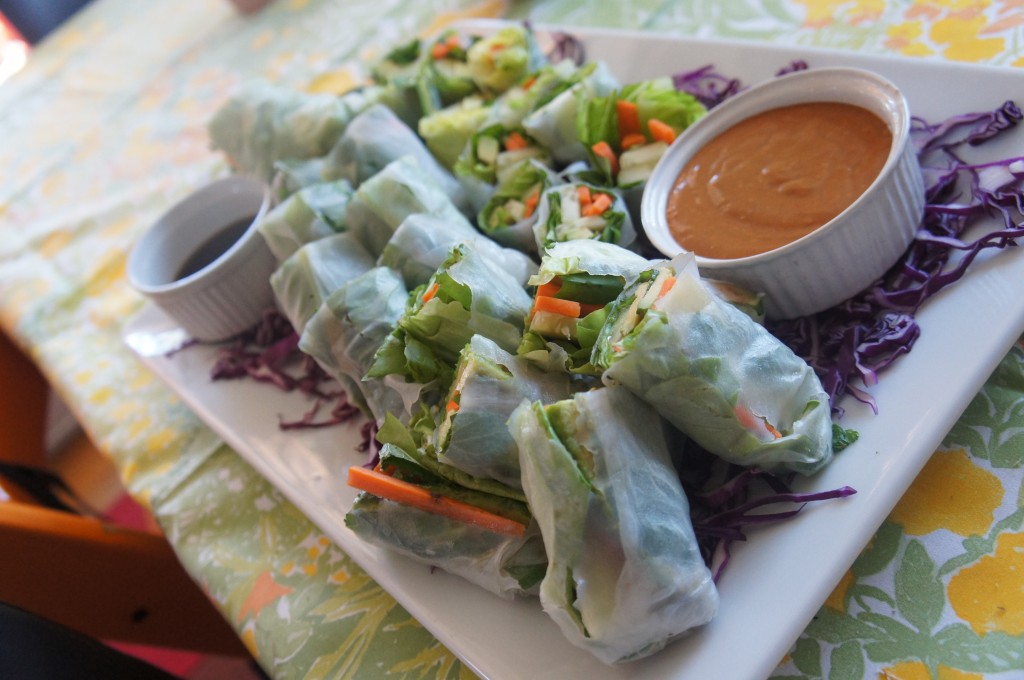 Katie started apps with summer rolls with two sauces – a peanut sauce and a ponzu sauce. Â There were two kinds of rolls – veggie and vietnamese pork. Â Delish!
She also made grilled garlic shrimp (no pics!) and masala mixed nuts.
That was in addition to the lbs and lbs of grilled sausage nycdad loves to make!
For sides we had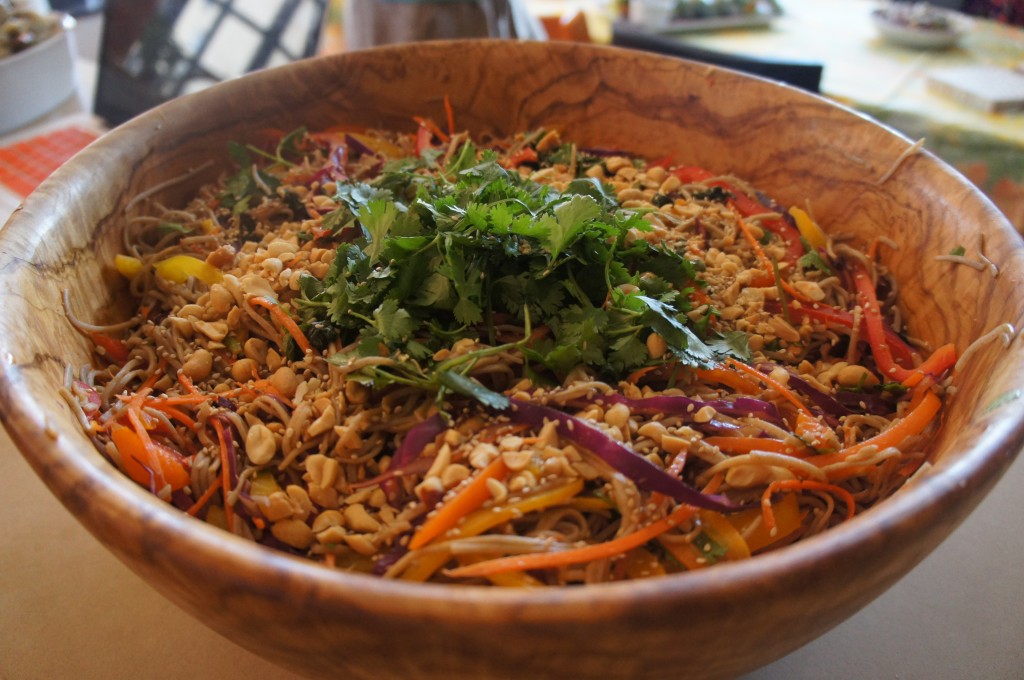 buckwheat noodles with veggies, an asian slaw, vietnamese fried rice, a green salad and other things which I have forgotten and also not photographed!
Of course we have to spice things up with a little Indian in the mix. Â My cousin Runa brought a Calcutta favorite – Puchka or Pani Puri or Gol Gappa.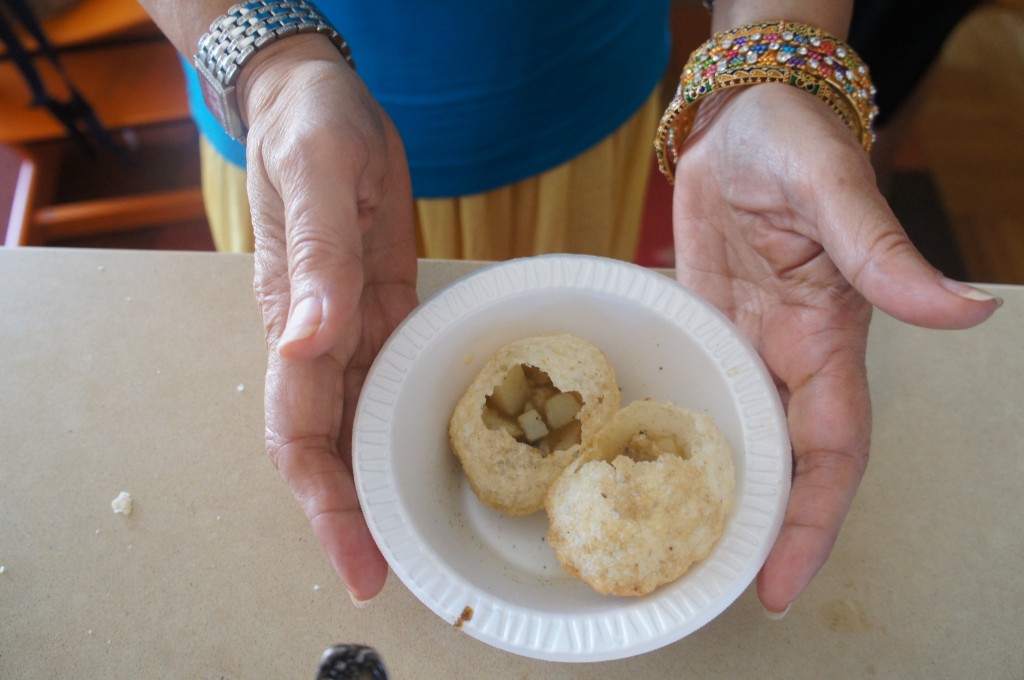 Basically a cute little hollow fried dough that you poke a hole into and fill with potato and tamarind and a cold spicy watery broth. Â Sounds weird, right? Â But it's oh so good! Â In Calcutta you stand on the street and just pop them in your mouth. Â One after the other. Â This is, of course, after your uncle has made the Puchkawallah wash his hands with bottled water and make a new jal jeera (spicy water) using said bottled water. Â Oh us dainty Americans…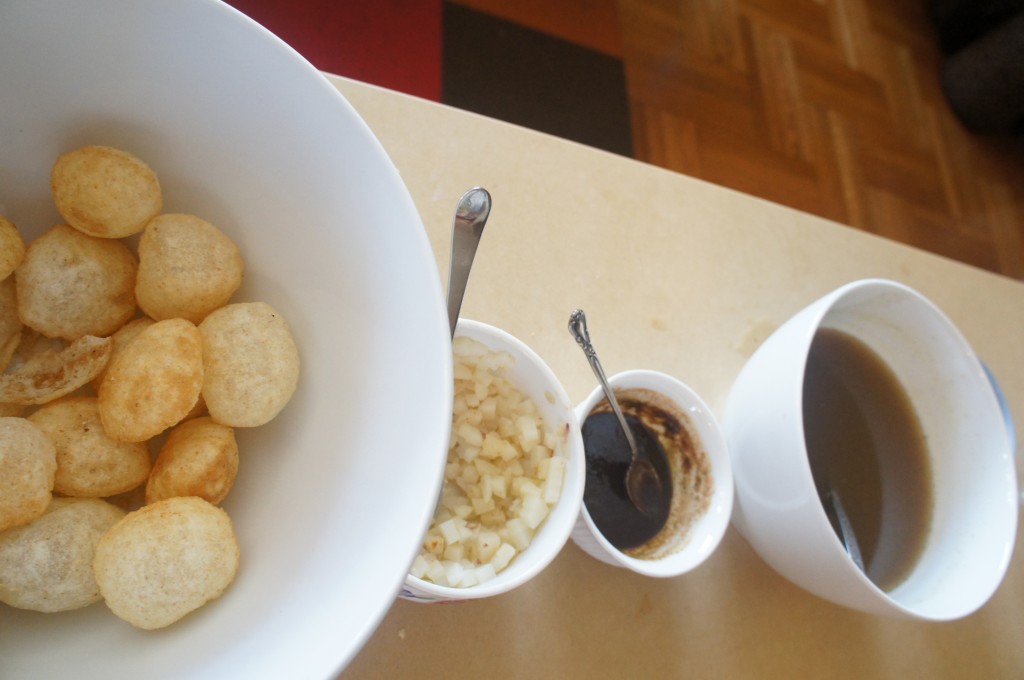 Puchka fixins!
And then of course lunch!
Here's Justin going at it! Â He is a BOSS with the Bo Ssam!
Bo Ssam! Â In all it's glory! Â Really if you haven't tried you need to run out and secure yourself a pork butt! Â Or call Momofuku and make a reservation.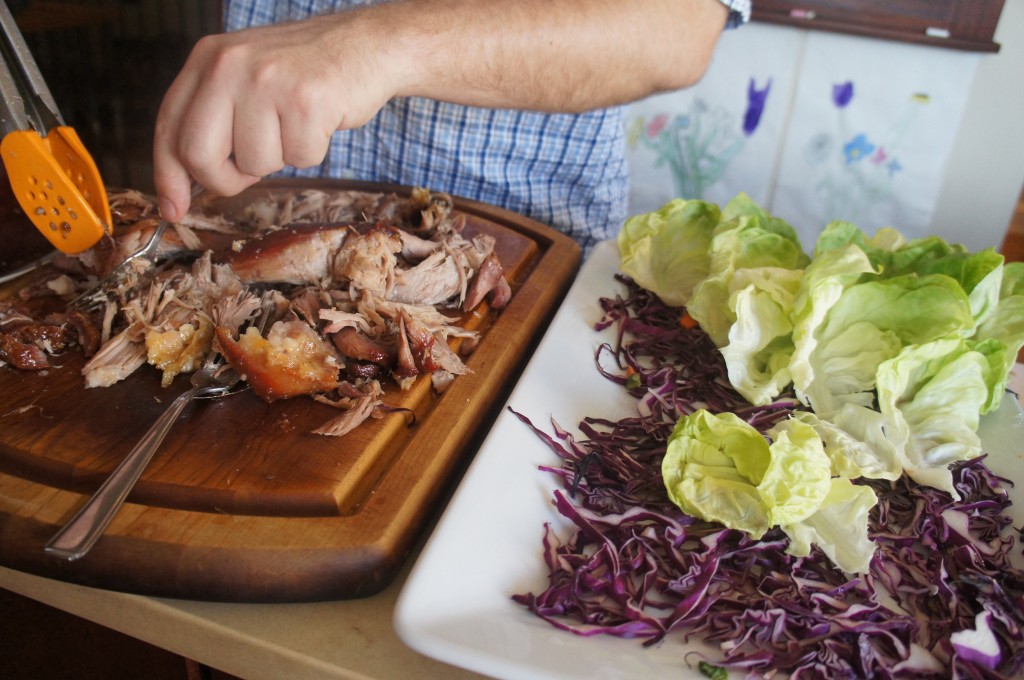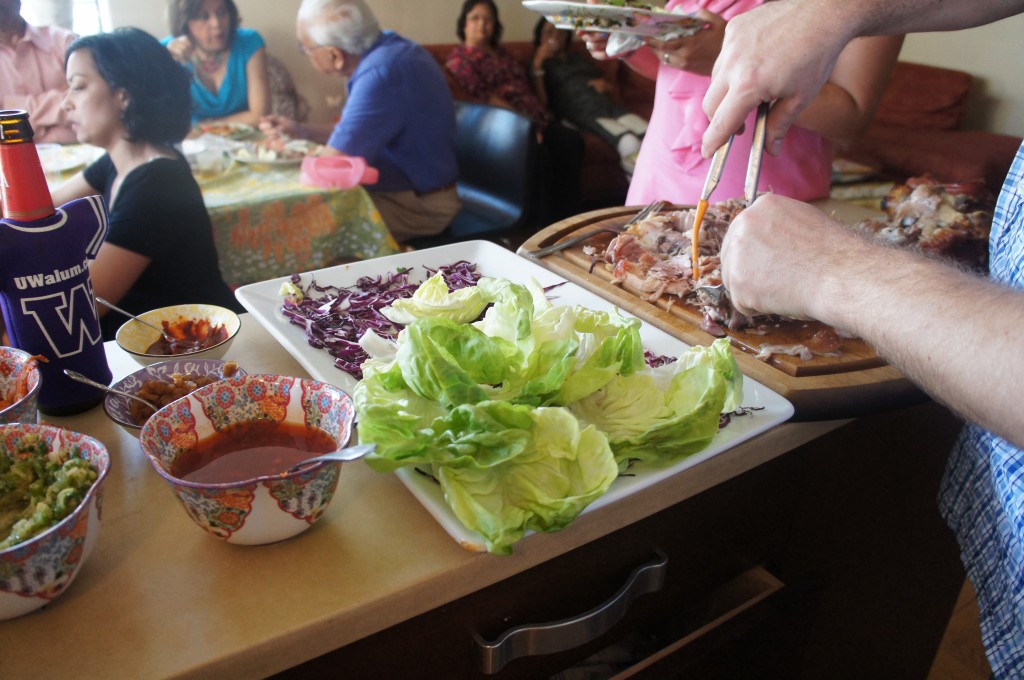 Here's the link to the Bo Ssam recipe on the NYTimes.
These are the Bo Ssam sides – ginger scallion sauce, kimchi, pickled radish and unidentified bowls of bo ssam stuff!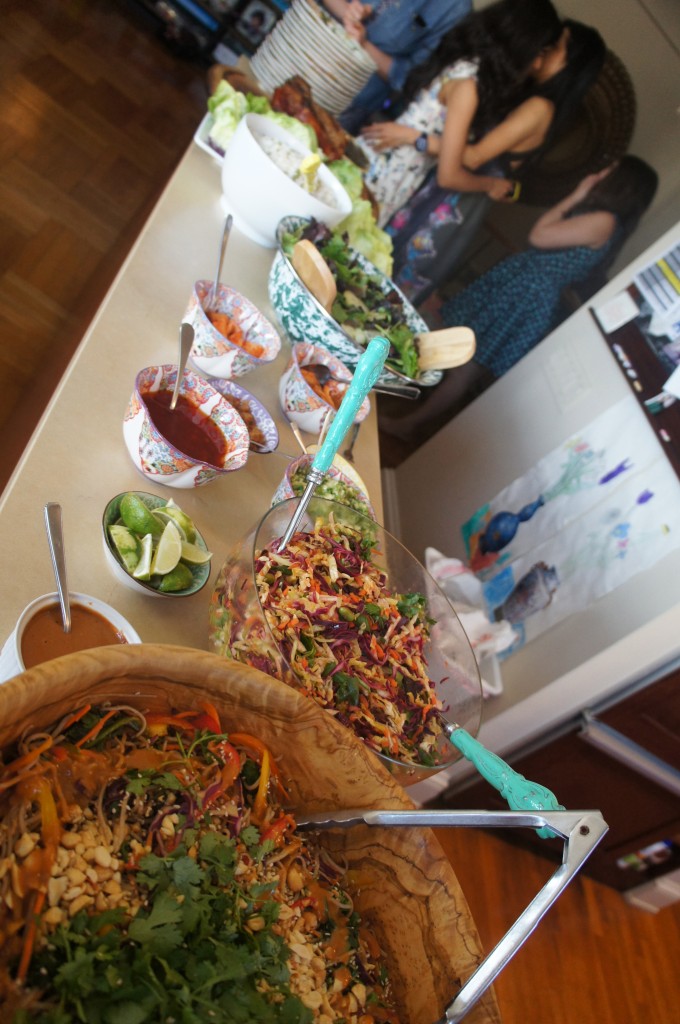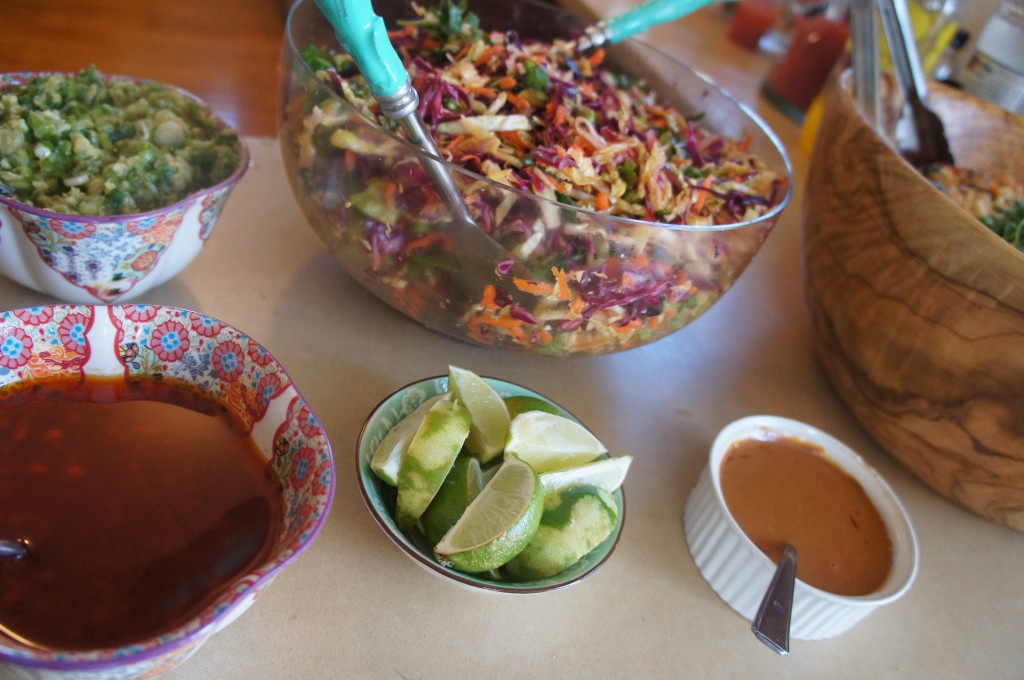 What a feast!
And then of course dessert!
I made a Tres Leches Cake which I forgot to take pictures of – oops! Â The recipe is delicious and from Cook's Illustrated if you want to take my word for it.
The pie above is a chocolate pie with a pretzel crust and a peanut butter whip – the combo was too good to not try.
Here's the recipe (adapted from ohladycakes – didn't realize it was a vegan site so added dairy. Â Sorry not sorry!)
CHOCOLATE PIE WITH PEANUT BUTTER WHIP + PRETZEL CRUST
Pretzel crust
2 cups + 2 tbsp pretzel flour
2 tbsp sugar
13-14 tbsp non-hydrogenated shortening, room temperature (could probably use butter also)
Ganache filling
6 oz of good quality dark chocolate 
3/4 cup of heavy cream
Peanut butter whip
1 pint of heavy cream full
1/3 cup creamy peanut butter
1/3 cup powdered sugar 

Preheat oven to 325˚F. Line the bottom of an 8-9″ removable bottom tart pan with parchment paper and lightly grease with oil; set aside. In a large bowl, stir together the pretzel flour (which is just pretzels pulverized in a processor)and sugar. Add 13 tablespoons of the shortening and use a wooden spoon to mix it with the pretzel flour until it's combined and the mixture resembles large crumbs. Press the mixture together with your hands – if it sticks together fairly well, you don't need to add the final tablespoon of shortening unless you want to. Firmly press the crumbs into the prepared tart pan and bake at 325˚F for 10 minutes then set aside to cool. If you don't want to use the crust right away, it can be kept frozen in an air tight container for up to 3 months.
Prepare the chocolate ganache. Â Melt the chocolate over a double boiler. Â Once melted pour in the cream and stir till combined. Â Pour it directly into the crust and transfer it to the refrigerator to chill.
While the pie is chilling, prepare the peanut butter whip. Â Combine heavy cream, peanut butter and sugar and whip till stiff peaks form.
Remove the pie from the refrigerator and top with peanut butter whip. Allow to chill for at least another 2 hours before serving – the shortening in the crust needs some time to solidify to keep the pie structurally sound. When ready to serve, top with crushed pretzel sticks and chopped chocolate, if desired. Pie will keep covered in the refrigerator for up to four days, but if you want to add the crushed pretzel topping, I recommend waiting until serving (or else the pretzels get soggy).
Yield: 10 slices
Needless to say, everyone was fat and happy.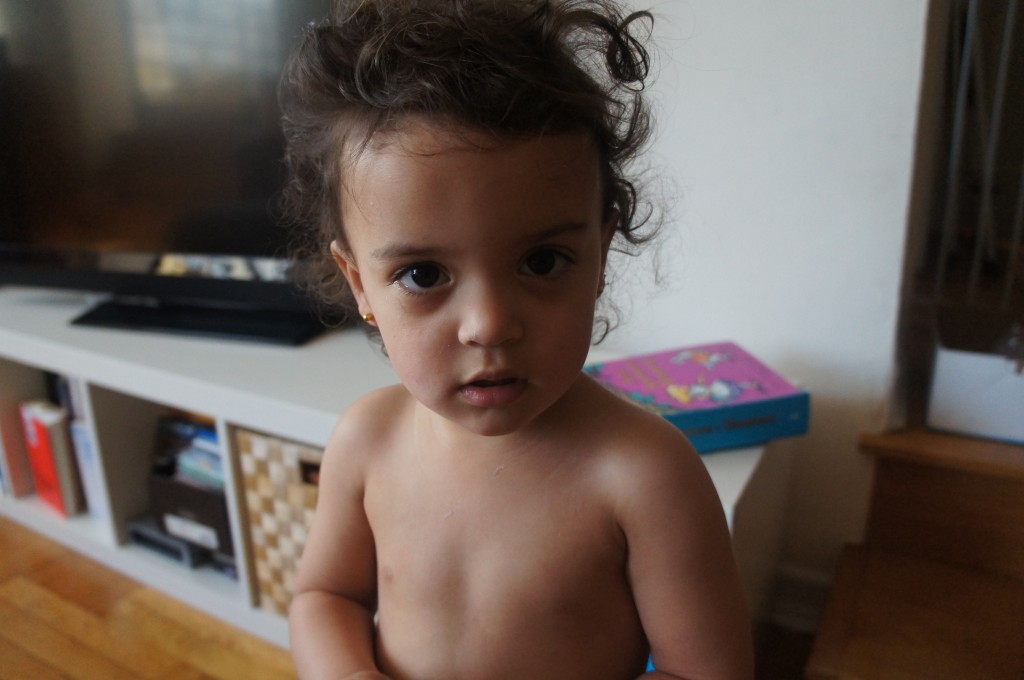 Some of us even lost our shirts.
Parting Mother's Day gift was a jar of homemade tomato jam by Mark Bittman- recipe here. Â Made with love by nycmom and packaged begrudgingly by nyckid.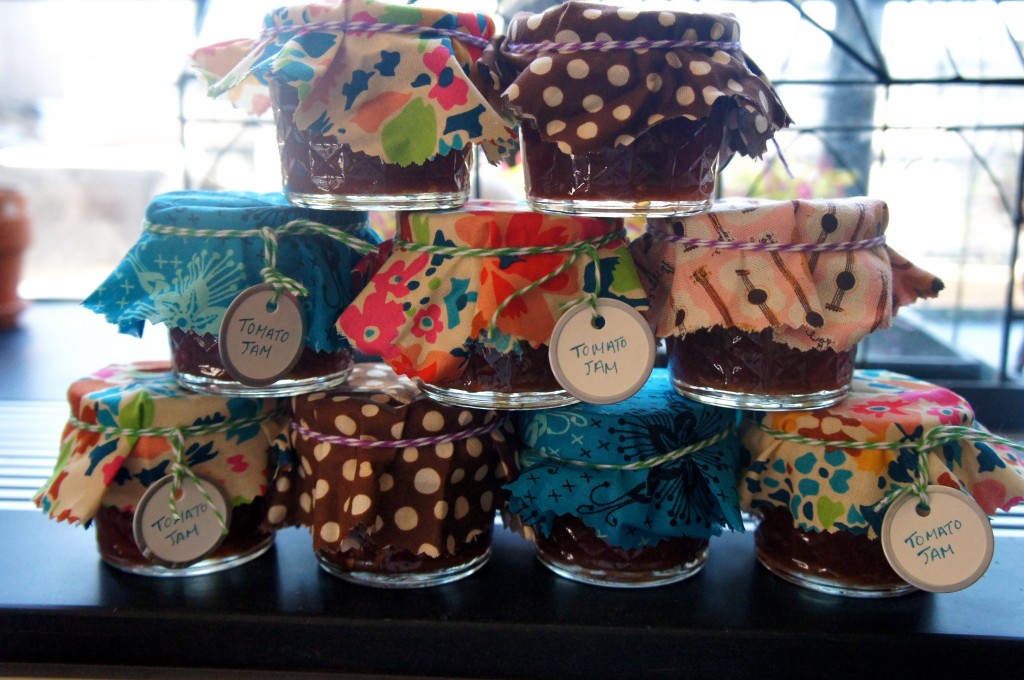 Happy Mother's Day till next year! xxx
BIG P.S.!! Â Nyckid and I are attending Blogher Food in Miami this weekend! Â We are beyond excited to be in Miami with other food bloggers we have been following and finally get to meet! Â Hope to pick up a blogging trick or two. Â Stay tuned…