I quite like making bundts now. Â We seem to have come to an understanding. Â As usual it was all about money.
I love to cook and bake but some of my favorite dinners are one pot stewy dutch oven-y things.  The bundt is a baking version of that.  It's fancier than cookies but doesn't require frosting so easier than a cake.  I was having an ongoing issue with trying to get the bundts out of the pan cleanly  – it never seemed to work for me.  I would wait 10 minutes.  Or 20.  I would run a knife around the edge.  I would wrap the base in a wet paper towel.   I got nothin'.  But a fragmented craggly bundt.  Which still tasted good but was not very pretty.
BUT
I easily solved that! Â I bought a really expensive heavy duty bundt pan from Williams Sonoma (no they didn't pay me, I wish they did!) and guess what? Â All my bundt troubles vanished! Â This is the pan I bought and I highly recommend (it's the top one):

These are the things I like about it:
 – it has handles
 – it's really deep, holds 15 cups
 – it weighs as much as my 1 year old niece
I think Cook's Illustrated recommends it also and that's good enough for me.
In my quest for bundt recipes I stumbled upon a really great blog with a really great name:
I Like Big Bundts !  She has so many bundt recipes on there – it's a treasure trove really.  Check her out for bundt inspiration.
So the other day I was having a trunk show and was looking to make a quick goodie to offer. Â My younger two nyckids love Marble Loaf which we used to buy at Starbucks on our way down to Science class at the AMNH. Â We call is Marble-Lo in our family as that's what my kids thought I was saying before they could read. So I decided to make a Marble Bundt and decided that it must have chocolate chips. Â I think it had something to do with the zaniness of the holidays (this was early December) and I was having a hard time coping unless I had chocolate chips. Â In almost everything.
The cake was delicious and a hit and I made it through the holidays. Â Sadly I have had to stop the chocolate chip method of emotional support. Â For the sake of my pants.
Here's the how:
butter your bundt ( I like to put a pat of butt in the pan and stick it in the pre heating oven for a minute and then swirl it around. Â Since this cake I have found Pam with Flour – hallelujah!
flour it
meanwhile you should be mixing together the sugar, cocoa, corn syrup and vanilla.
and melting it into this wonderful chocolatey mess.
mix the butter and sugar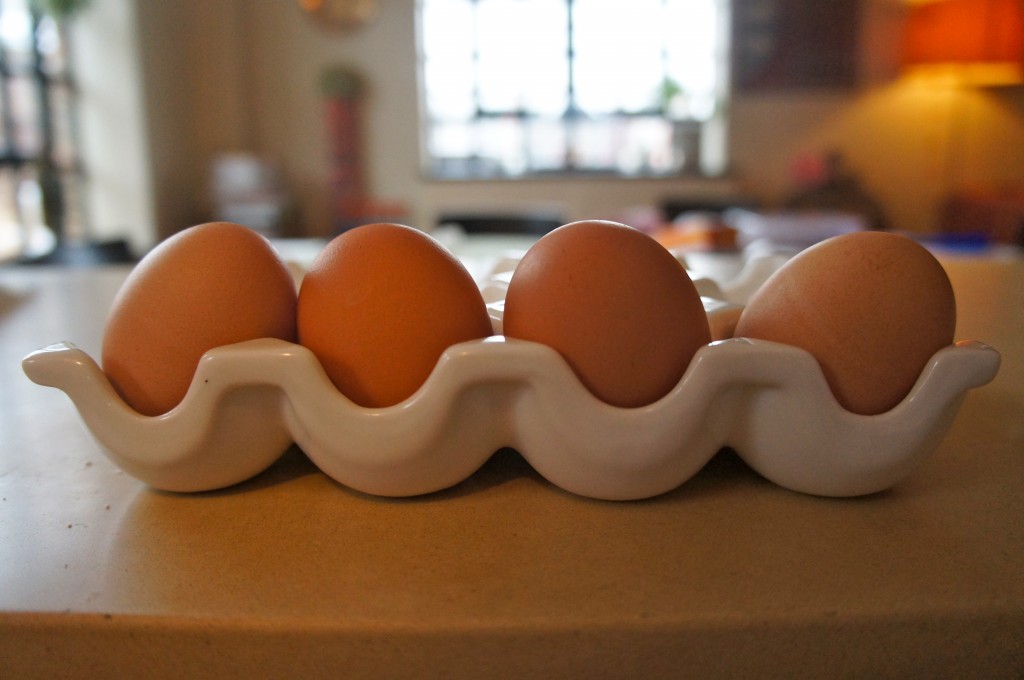 add the eggs (there's a lot of them in this cake! Â it's a big one!)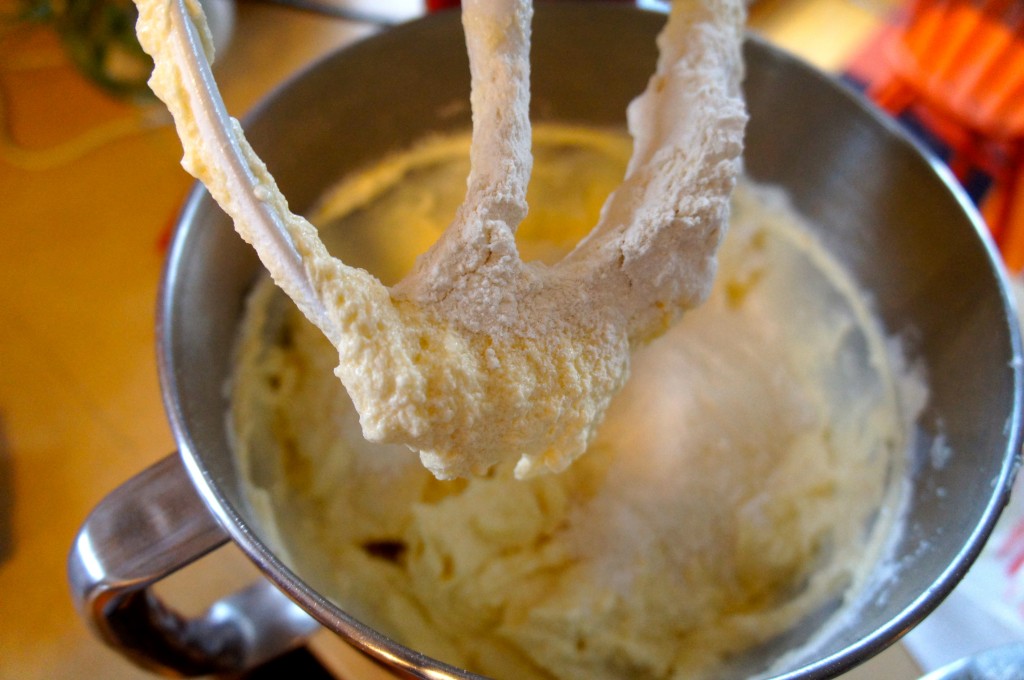 Add the flour mixture
alternating with the milk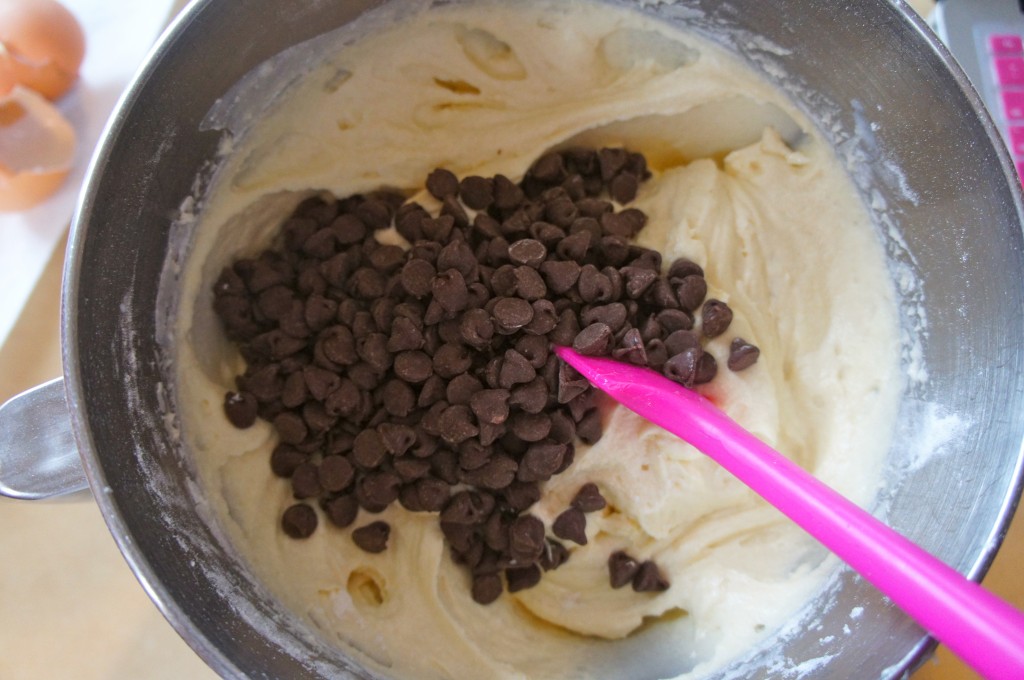 add chips and fold in by hand
clean up your mess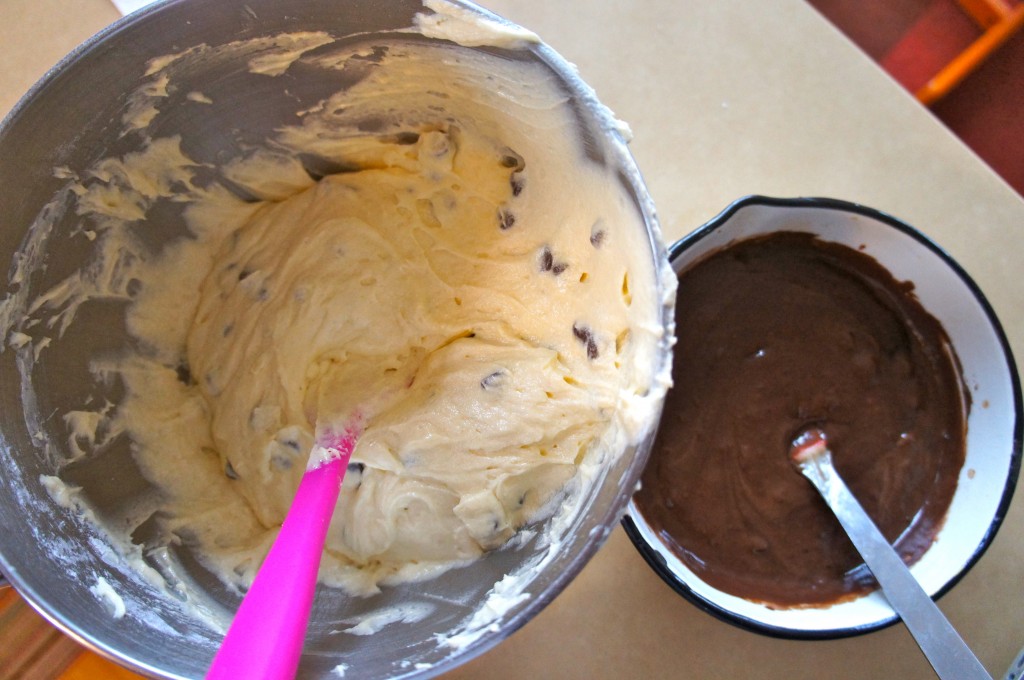 Now you are ready to make the marble-lo part of the cake!
mix 1/3 of dough in with the chocolate sauce you made earlier – I did it right in the pot!
yumz!
put in half of the remaining vanilla dough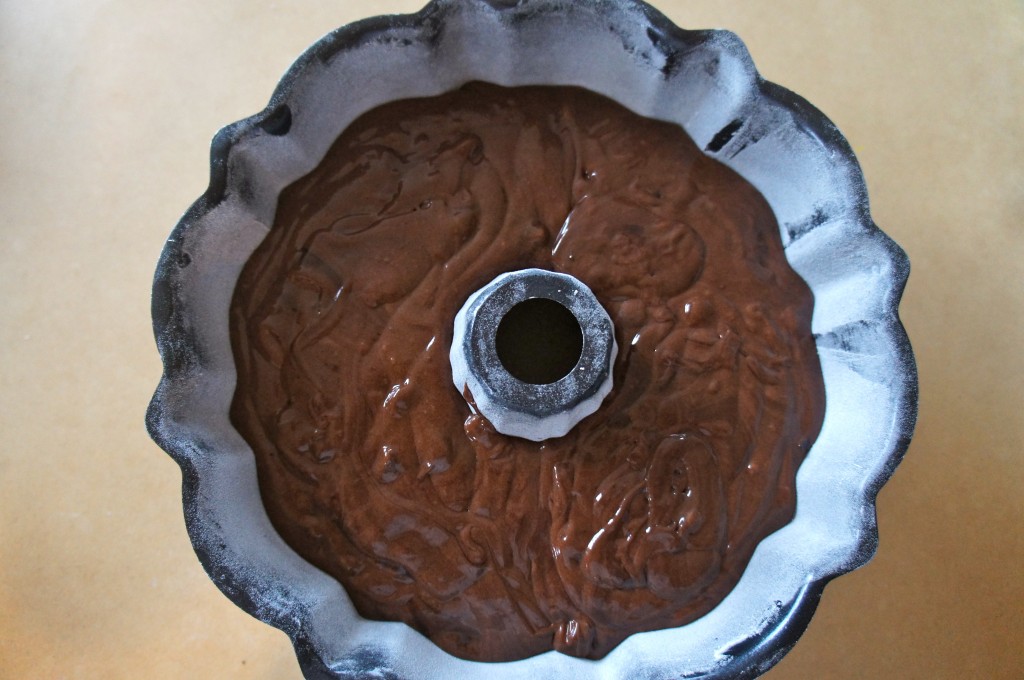 put in the chocolate layer
put in the last vanilla layer – smooth it down and swirl your knife through. (sorry no pics of that!)
and rightfully so since I didn't do a very good job at swirling! Ha!
Still tastes mighty good!
Marble-Lo Bundt Cake with Chocolate Chips 
adapted from I Love Big Bundts
2 1/2 cups (17 1/2 ounces) sugar, divided (1/2 cup and 2 cups)
1/2 cup (1 1/2 ounces) cocoa powder
1/4 cup light corn syrup
1/2 cup (4 ounces) hot water
2 1/2 teaspoons vanilla, divided (1/2 teaspoon and 2 teaspoons)
2 2/3 cups (11 3/8 ounces) flour
2 teaspoons baking powder
1/2 teaspoon salt
2 sticks butter, at room temperature
4 eggs, at room temperature
1 cup (8 ounces) milk
1 cup (6 ounces) chocolate chips
Oven: Preheat to 350 degrees.
Pan: 12-15 cup Bundt pan. Butter and flour pan generously OR Use Pam with Flour. Â I know, I know – what's in there, right? Â I say just close your eyes and SPRAY because the STUFF IS MAGIC.
1. Chocolate Syrup: In a small saucepan, whisk together 1/2 cup sugar, cocoa powder and corn syrup with 1/2 cup hot water. Bring just to a simmer, stirring occasionally. Remove from heat. Add 1/2 teaspoon of vanilla and set aside to cool.
2. Dry ingredients: In a medium bowl, whisk together flour, baking powder and salt
3. Cream: Using a stand mixer with paddle attachment, cream the butter with 2 cups sugar until light and fluffy. Add one egg at a time, beating well after each addition. Beat in 2 teaspoons vanilla.
4. Combine dry & wet: Using slow speed on mixer, add 1/3 of the flour mixture until just combined. Add 1/2 the milk. Scrape down the bowl. Repeat flour and milk, ending with flour. Don't overmix batter.
5. Fold in chocolate: With a spatula, gently fold in the chocolate chips.
6. Make chocolate batter: Scoop out 1/3 of the batter into a medium bowl. Blend in the chocolate syrup mixture until smooth. The chocolate syrup will thin out the batter quite a bit.
7. Bundt Pan: Spoon 1/3 of the remaining (non-chocolate) batter into the prepared Bundt pan and smooth out (I like to use an offset spatula or back of a spoon for this task). Pour the chocolate mixture on top of the batter. Top with the last 1/3 of the batter.
8. Marble: Using a butter knife, swirl the batters together to get a marble effect. Smooth out the top of the cake.
9. Bake: Place pan in the oven. Bake until a toothpick inserted comes out clean and the cake springs back lightly when touched, about 60 minutes.
10. Finishing: Place Bundt on a wire rack and let cool. Invert on a tray and dust lightly with powdered sugar.