December. Â It always seems to fly by in a whirl of parties and presents and cookies. Â Cakes, panettone, gingerbread houses and lots and lots of cookies. Â Now that it's over I can finally write about it!
Somehow nyckid and I started a tradition that must be going on 13 years now of giving each teacher a big christmas cookie as a holiday gift.  All the schools discourage giving store bought gifts – they suggest homemade  – so somehow 13 years ago I thought it would be a good idea to make these large Martha Stewarty cookies.
Sometimes a good idea is not such a good idea 13 years later. Â Look at Michael Douglas and Catherine Zeta Jones. Â Well maybe they are not the best example but you get what I mean.
This year nyckid has 7 teachers, middle nyckid has 9 and little nyckid had 5.  Oy.
When this all started I had one kid in school and 2 teachers. Â Every year I say I won't do the cookies and every year I am met with loud protestations of "you have to, mommy!" Â I have to say it is much easier but it is still a three days process. Â The first day you make the dough and bake the cookies. Â Some years it's sugar. Â Some years it's gingerbread. Â Every year I somehow forget that the dough needs to rest in the fridge before rolling out. Â The next day the cookies are flooded with the base color and then need to dry over night. Â The third day the cookies are decorated with white icing and dragees and jimmies. Â And another night of drying out. Wrapping them up happens the next day. Â So I guess it's really 4 days. Â People tell me I should sell them. Â But they would cost $50 each considering all the time spent! Â A labor of love it is. Â And though the early years were stressful I have now become quite zen about it and actually find it relaxing. Â This year I lost track of time and didn't realize that it was close to midnight!
This is the Martha Stewart Gingerbread Cookie recipe I use:
Yield Makes 16 cookies
Ingredients
6 cups all-purpose flour, plus more for work surface
1 teaspoon baking soda
1/2 teaspoon baking powder
1 cup (2 sticks) unsalted butter
1 cup packed dark-brown sugar
4 teaspoons ground ginger
4 teaspoons ground cinnamon
1 1/2 teaspoons ground cloves
1 teaspoon finely ground pepper
1 1/2 teaspoons coarse salt
2 large eggs
1 cup unsulfured molasses
Royal Icing (http://www.marthastewart.com/283925/royal-icing)
Fine sanding sugar, for sprinkling
Directions
Sift together flour, baking soda, and baking powder into a large bowl. Set aside.
Put butter and brown sugar in the bowl of an electric mixer fitted with the paddle attachment; mix on medium speed until fluffy. Mix in spices and salt, then eggs and molasses. Reduce speed to low. Add flour mixture; mix until just combined. Divide dough into thirds; wrap each in plastic. Refrigerate until cold, about 1 hour.
Preheat oven to 350 degrees. Roll out dough on a lightly floured work surface to a 1/4-inch thick. Cut into snowflakes with a 7- inch snowflake-shape cookie cutter. Space 2 inches apart on baking sheets lined with parchment paper, and refrigerate until firm, about 15 minutes.
Bake cookies until crisp but not dark, 12 to 14 minutes. Let cool on sheets on wire racks.
The next day flood them with a base color of royal icing and let it dry overnight.
(Quick cut out cookie tutorial!)

get everything ready to go!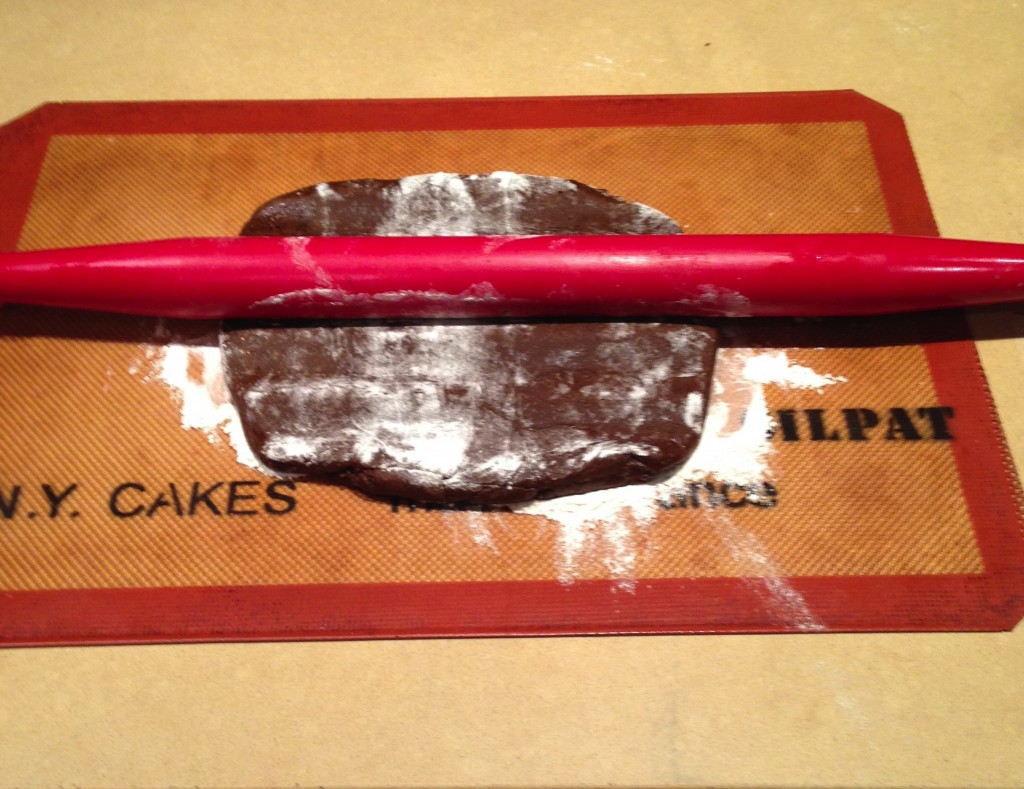 roll out the chilled dough – don't be afraid to use flour!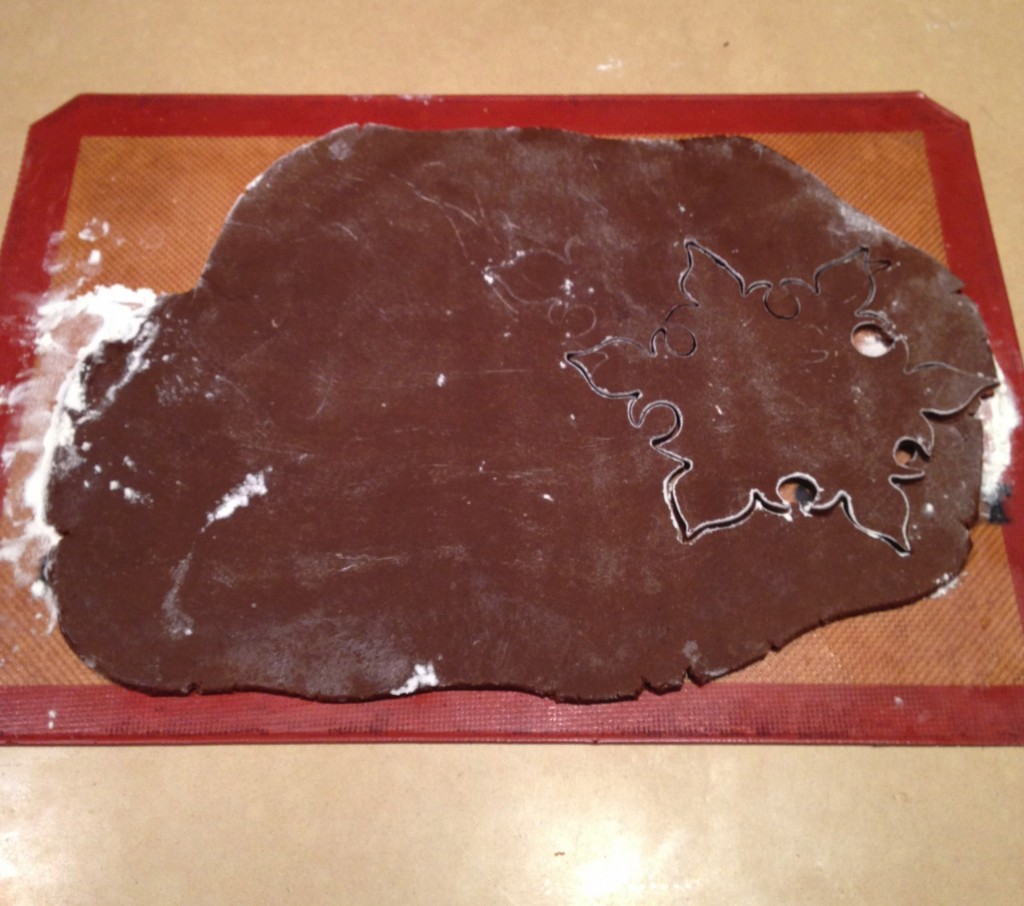 dip your cookie cutter in flour and press
continue until you run out of room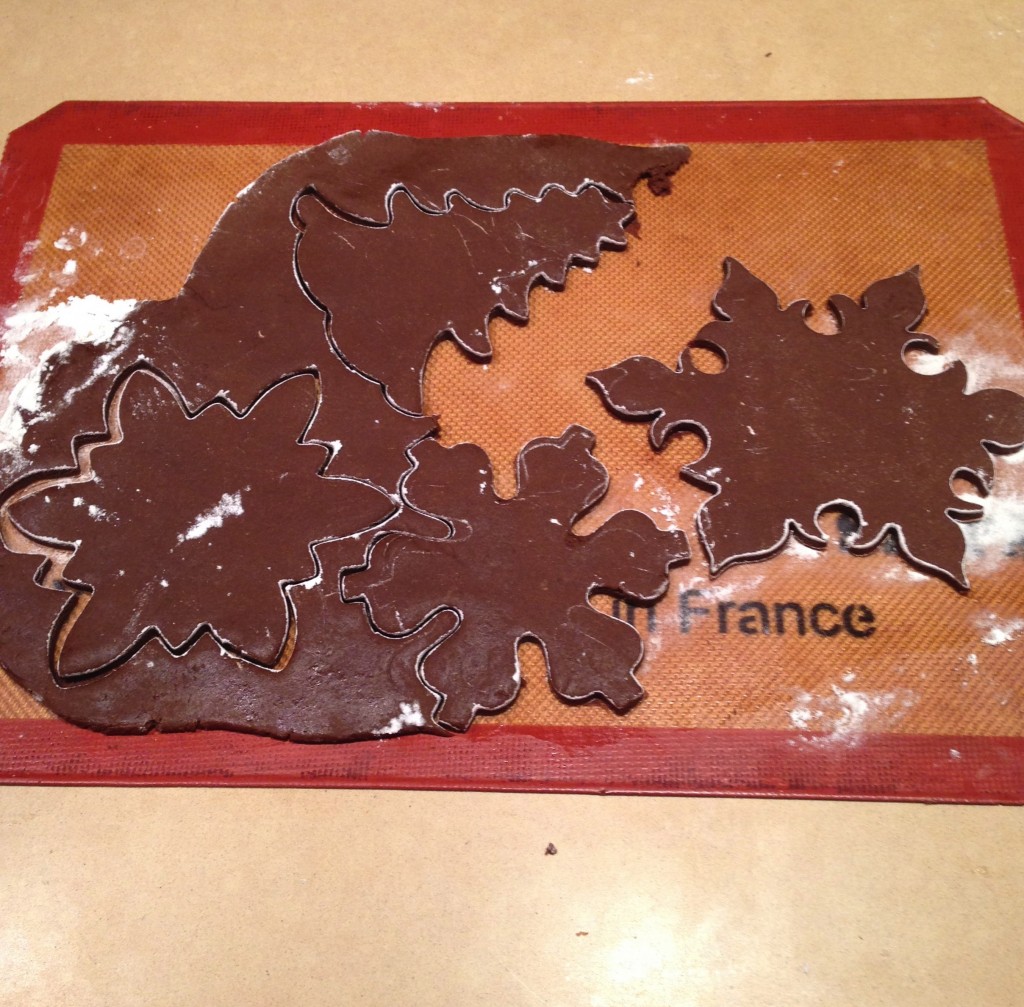 pull away the excess dough
I put the entire silpat on a cookie sheet in the freezer for 15 minutes before I bake

brush off any excess flour

And this is the Martha Stewart Sugar Cookie recipe I use:
Yield: 32 small cookies
Ingredients
2 cups all-purpose flour, plus more for rolling
1/2 teaspoon baking powder
1/4 teaspoon salt
1/2 cup (1 stick) unsalted butter, room temperature
1 cup granulated sugar
1 large egg
1 teaspoon vanilla extract
Assorted candies, sprinkles, or colored sugars, for decorating (optional)
Directions
In large bowl, whisk flour, baking powder, and salt. With an electric mixer, cream butter and sugar until light and fluffy. Beat in egg and vanilla. With mixer on low, gradually add flour mixture; beat until combined. Divide dough in half; flatten into disks. Wrap each in plastic; freeze until firm, at least 20 minutes, or place in a resealable plastic bag, and freeze up to 3 months (thaw in refrigerator overnight).
Preheat oven to 325 degrees. Line baking sheets with parchment. Remove one dough disk; let stand 5 to 10 minutes. Roll out 1/8 inch thick between two sheets of floured parchment, dusting dough with flour as needed. Cut shapes with cookie cutters. Using a spatula, transfer to prepared baking sheets. (If dough gets soft, chill 10 minutes.) Reroll scraps; cut shapes. Repeat with remaining dough.
Bake, rotating halfway through, until edges are golden, 10 to 18 minutes (depending on size). Cool overnight on wire racks.
The next day flood them with a base color of royal icing and let it dry overnight.

This is the Royal Icing recipe I use:
from Dani Fiori – makes 2 1/2 cups
1/4 c. meringue powder
1 pound confectioners' sugar (about 3 1/2 to 4 c.)
1/2 c. water
1. Using a hand mixer with the whisk attachment, mix together meringue powder with 1/2 cup water until soft peaks form, about 1 minute. Using the beater attachments, add sugar one cup at a time; continue mixing until well combined, scraping down the sides of the bowl as necessary. Icing will become thick and glossy in appearance.
2. Ice cookies.* (Do not cover or stack until completely dry. I usually wait overnight.)
This year I did the icing a little bit different – I marbelized it! Â So fun!
And I forsake my trusty piping bags and used bottles – also fun!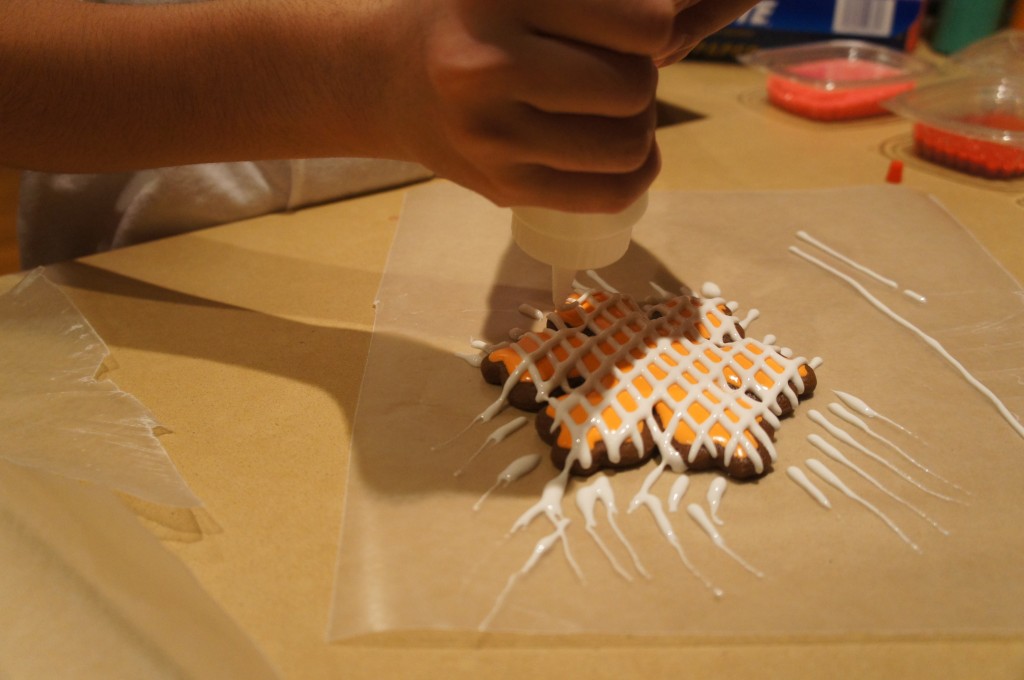 So the marbelizing is not as hard as it looks but of course I have no pics!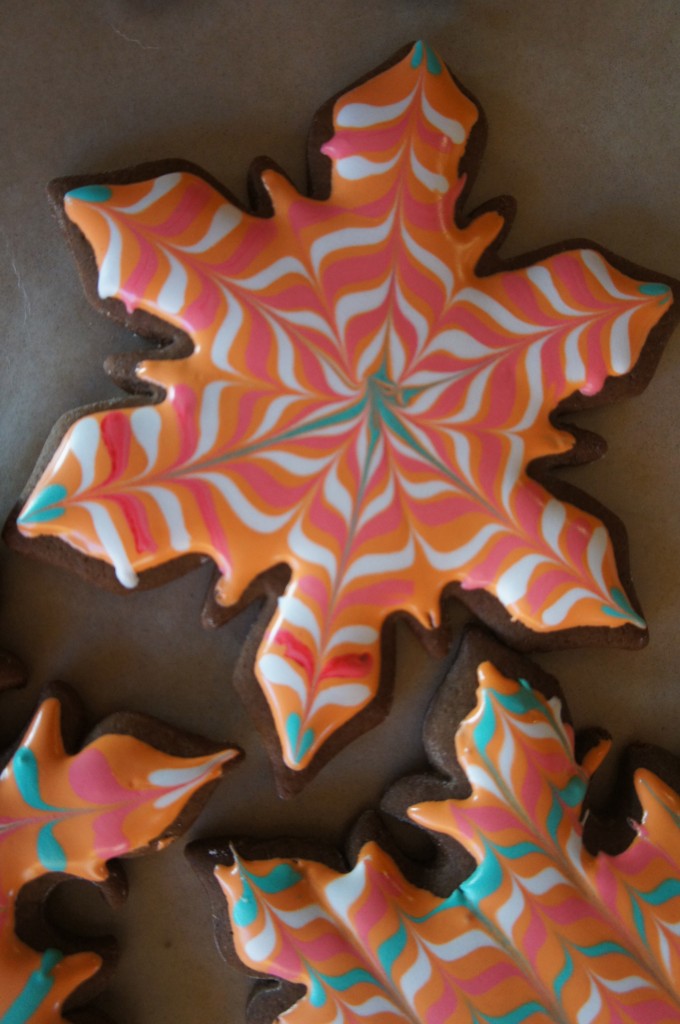 You basically flood the entire cookie with orange and then make circles with the other colors and run a toothpick through. That's it!
Ghosts of Christmas Past:
xmas 2012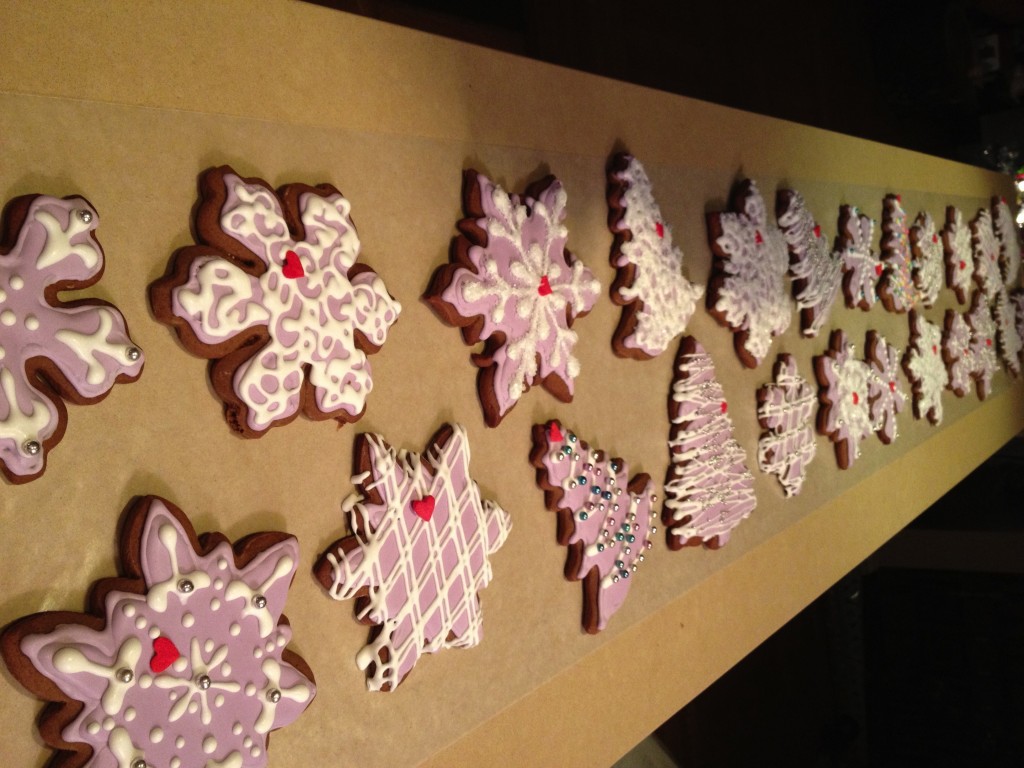 xmas 2011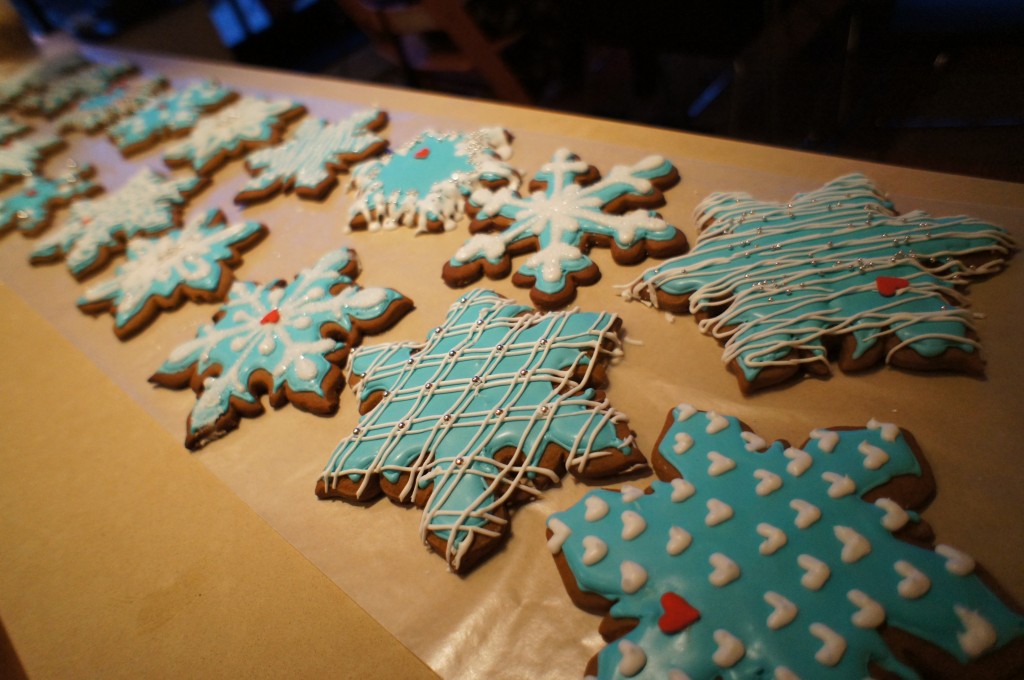 xmas 2010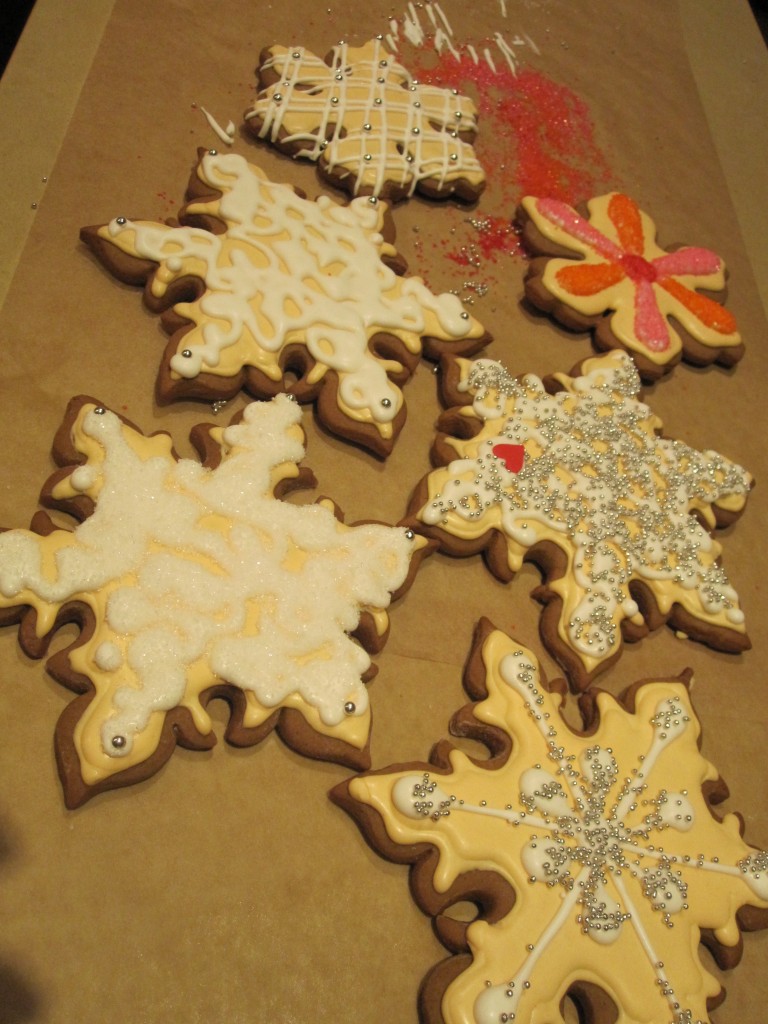 xmas 200?
xmas 2006 with a teeny tiny nyckid…awwww!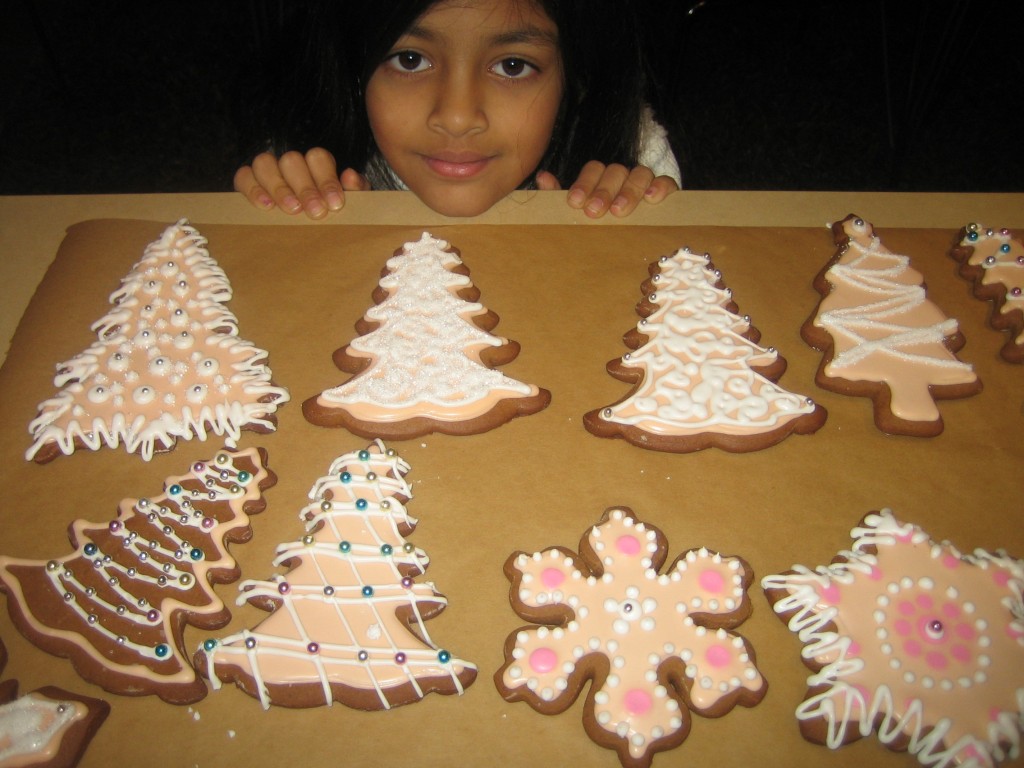 Always a little bit bittersweet making these buggers. Â Means another christmas has come and gone. Â Onward to 2014!
And to all a good night!
(I leave you with the table BEFORE the finished gingerbread houses at the top! Â This is in progress – yikes!)