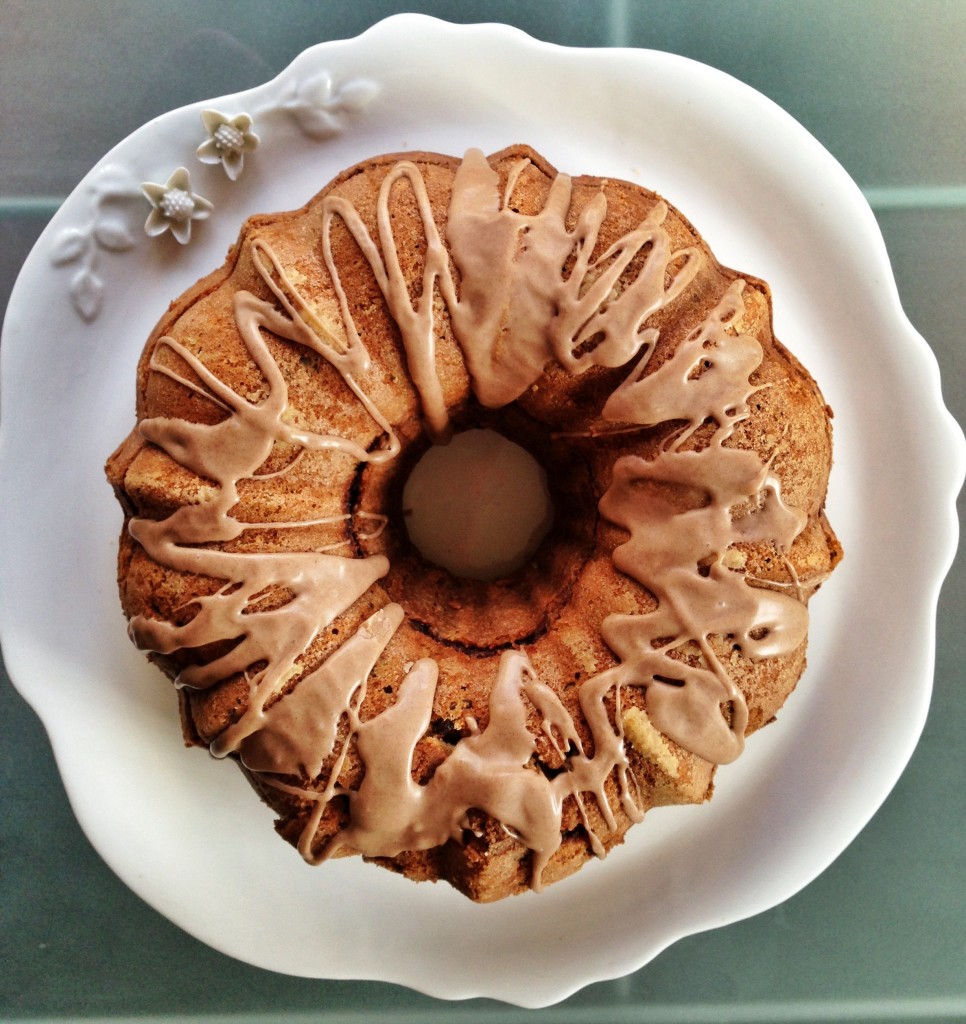 And in a blink of an eye….summer's gone! Â Is it me or is the length of summer inversely proportional to your age? Seemed to stretch endlessly when I was 9…now I feel it's over before it begins sometimes. Â What's a girl to do except savor the memories and bake some zucchini cake?
Happily we are back in NYC and back to Meatless Mondays. Â *DIGRESSION* Â Hey y'all – if you have not jumped on the MM bandwagon, please do! Â Basically it is a pledge to not eat meat on mondays but if you google it you will get all sorts of cool stats about all the great things that will happen when you don't eat meat for only one day!
Newton's III Law! Â For every action there is an equal and opposite reaction!
Nyckid informed us, about 7 years ago, that since her school did MM so would she.  And as you can tell from her posts  – that kid has a mind of her own.  So meatless monday we became.  The first back to school MM meal  – since I was not quite back into NYC mode  – was a quick zucchini frittata. And somehow we had WAY too much shredded zucchini.
Sooooo….I started thinking…..
Carrot cake goes swimmingly with cream cheese frosting. Â Why not a zucchini cake? Â (Really what doesn't go well with cream cheese frosting?) Â  I couldn't really find a cake recipe I liked that I could split into layers. Â But I did find a zucchini cake with cream cheese inside the batter! Â Eureka! Â Why didn't I think of that?
Luckily I made this cake just in time for the performance my son had for which he invited the entire building. Â Without asking me first. Â The performance and the cake were a big hit!
Here's the how:
Not as organized as Nyckid so ALSO sugar, flour, vanilla, butter, baking po and baking so.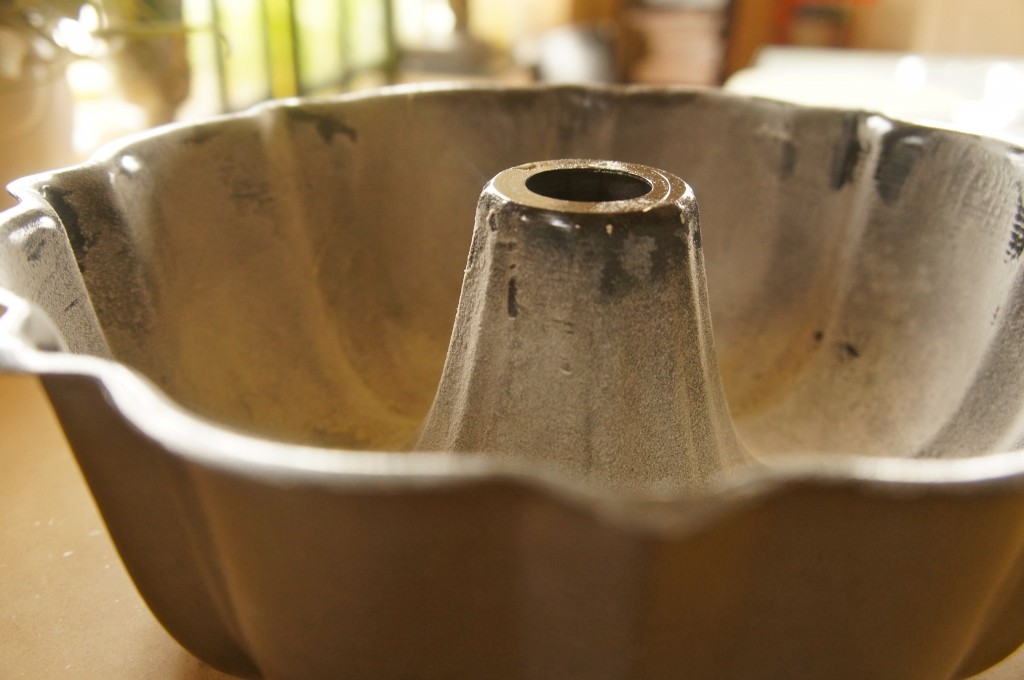 And ready to go!
mix together cream cheese and sugar – make sure CC is room temp!
Mix sugar and cinnamon together for the swirl and set aside till ready to use.
Add the melted butter to the mix.
Add dry ingredients to the mix.
Add the star of the party – beautifully green!
And the chocolate chips, well, just because you can!
The finished batter should be pretty thick.
Put half the batter into the prepared pan and sprinkle with the cinnamon sugar mix.
Top with rest of batter. Â And beware of errant small baseball players.
Bake at 350° for about an hour.  Wait patiently and stare at your very cute cupcake cake tester that has been lost for the past 3 months.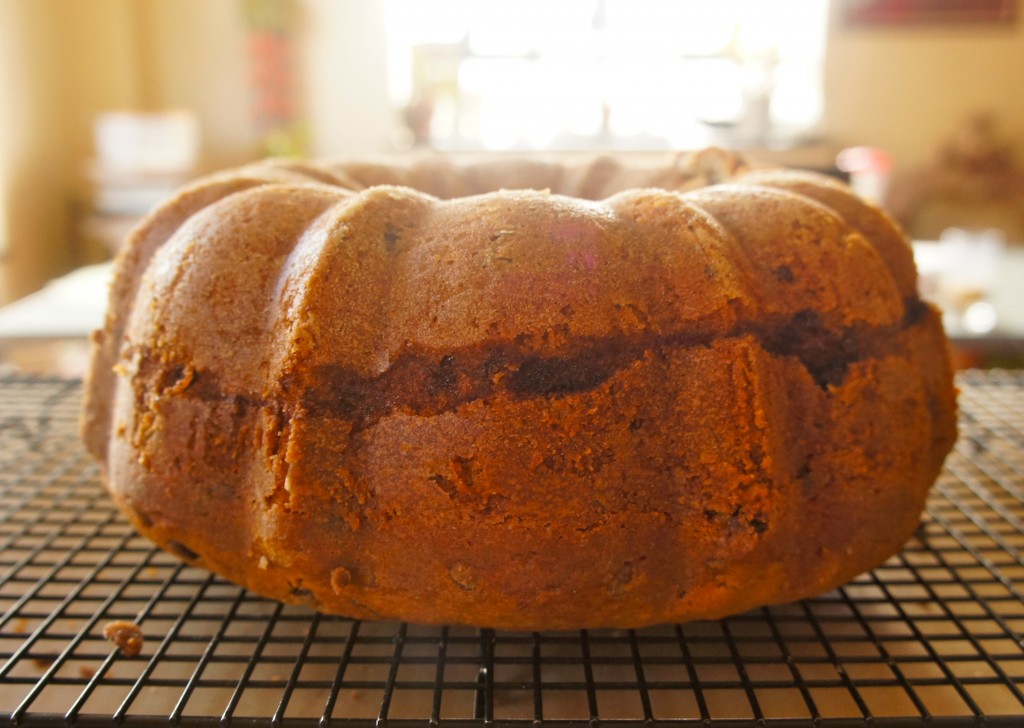 Done! Â You can see where the cinnamon swirl makes a crater in your beautiful bundt but that's ok.
Aaannnndddd here's my requisite bundt blunder. Â Why can't I get one of these to release perfectly folks? Â Tips? Techniques? Â Black magic? Â Anyway, nothin' a little icing can't fix!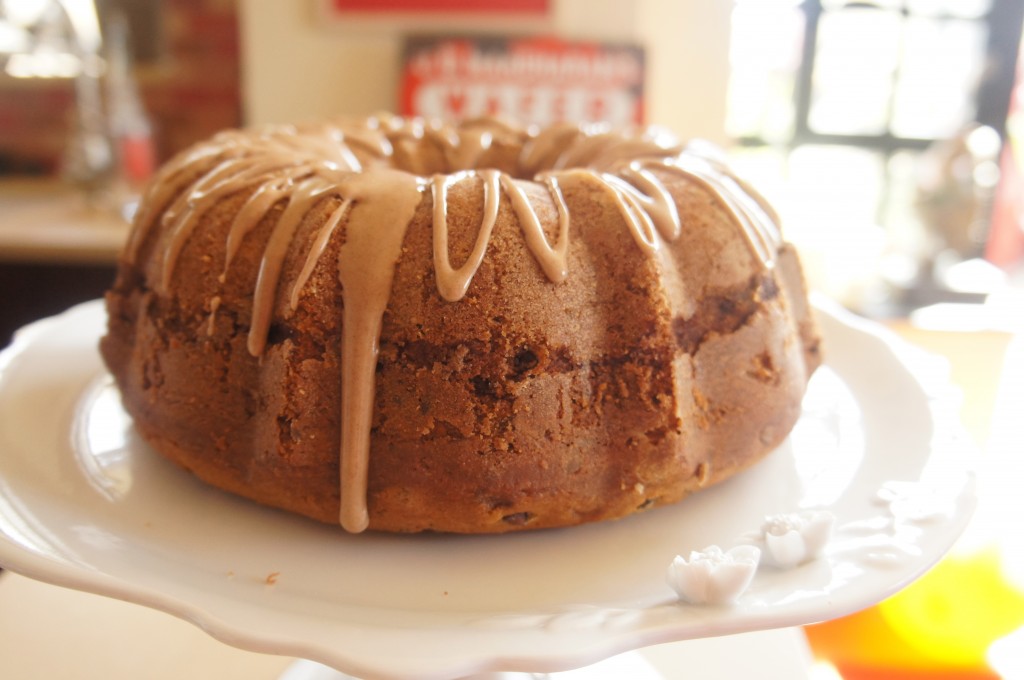 And she's ready for the performance. Â No one even knew she's wasn't perfect. Â Can't say as much for the performance….
Nycmom notes:
Truthfully I am afraid of bundts because they are so difficult to get out of the plan cleanly – I never have good luck with them (see above). Â If anyone has any bundt tips please feel free to share!
I had to add mini chips, because, well, I just did! Â But you can add pecans or walnuts.
adapted from www.julieseatsandtreats.com
Zucchini Bread with Cinnamon Swirl and Mini Chips
Ingredients
3 c. all-purpose flour

1 tsp baking soda
1/2 tsp baking powder
1 teasoon salt
1 tsp ground cinnamon
8 oz cream cheese, softened
2 c. sugar
3 eggs
2 tsp vanilla extract
1 c. butter, melted and cooled
1 cup mini chocolate chips
2 c. zucchini, shredded
Swirl
1/3 c. sugar
1 Tbsp cinnamon
Cinnamon Glaze
1/2 c. powdered sugar
1/4 tsp cinnamon
1/4 tsp vanilla
1-2 tsp milk
Instructions
Preheat oven to 350 degrees. Grease and flour a bundt pan.
Cream the cream cheese and sugar on medium speed for 2 minutes. Add eggs one at a time, mixing for one minute after each addition. Mix in vanilla. Pour in melted butter and mix. Beat for 3 minutes with mixer on medium-high.
Mix in flour, baking soda, baking powder, salt and cinnamon until just incorporated. Add zucchini and chocolate chips and mix.
Stir cinnamon and sugar together in small bowl for cinnamon swirl.
Pour half of cake batter into prepared bundt pan. Sprinkle cinnamon swirl mixture over batter. Top with the rest of the batter.
Bake for 1 hour or until cake test done. Remove from oven and cool for 20 minutes. Then turn onto a wire rack and let it cool completely.
Mix glaze ingredients together in small bowl. You want this to be a little thicker so it doesn't run down the cake. Add more milk if you want it thinner.
Drizzle glaze over cake.